Mountain Gorilla trekking takes place in Bwindi Impenetrable National Park, a Wildlife protected area in southwestern Uganda managed by the Uganda Wildlife Authority, a Government agency, The park is home to over half of the world's endangered Mountain Gorillas in addition to about 350 birds including 23 Albertine Rift Endemics, and some spectacular waterfalls and forest streams.
With over 20 Habituated gorilla families, it is one of the best places on earth to see Mountain Gorillas.
Mountain Gorilla trekking
The only way to see  Mountain gorillas is by trekking them with the help of knowledgeable guides because they are timid and secretive and can only be found in their native mountainous forest environment.
Every day at eight in the morning, mountain gorilla tracking in Bwindi starts with a briefing at the park's administrative office. After that, you'll be driven to the start of the tracking, which is often where the gorillas were last seen the night before.
Depending on how far the mountain gorillas had travelled since the previous night, the entire tracking process may take anywhere from 3 to 8 hours. Indicators like dung, footprints, and feeding trees will be searched for by the guides. They may even occasionally hear them before they see them! And once you come across the gorillas, you will get an hour to be with them so you can snap photographs and see them interact with one another. Maintain a distance of 8 metres between you and them at all times to prevent the spread of infections.
The guide will show certain plants and other animals that gorillas utilise as food while searching for the gorillas.
Mountain Gorilla Trekking fees
The fees for the period 2022 to 2024 are as follows
East African Citizens: UGX 250,000
Foreign Residents: $600
Foreign Non-Residents $700
Best time to track Mountain Gorillas
Mountain Gorillas can be tracked any time of the year, however, the low tourism seasons between March to April and November to December sometimes are good for cheaper accommodation and low season discounts by Uganda Wildlife Authority
What to bring for Mountain gorilla trekking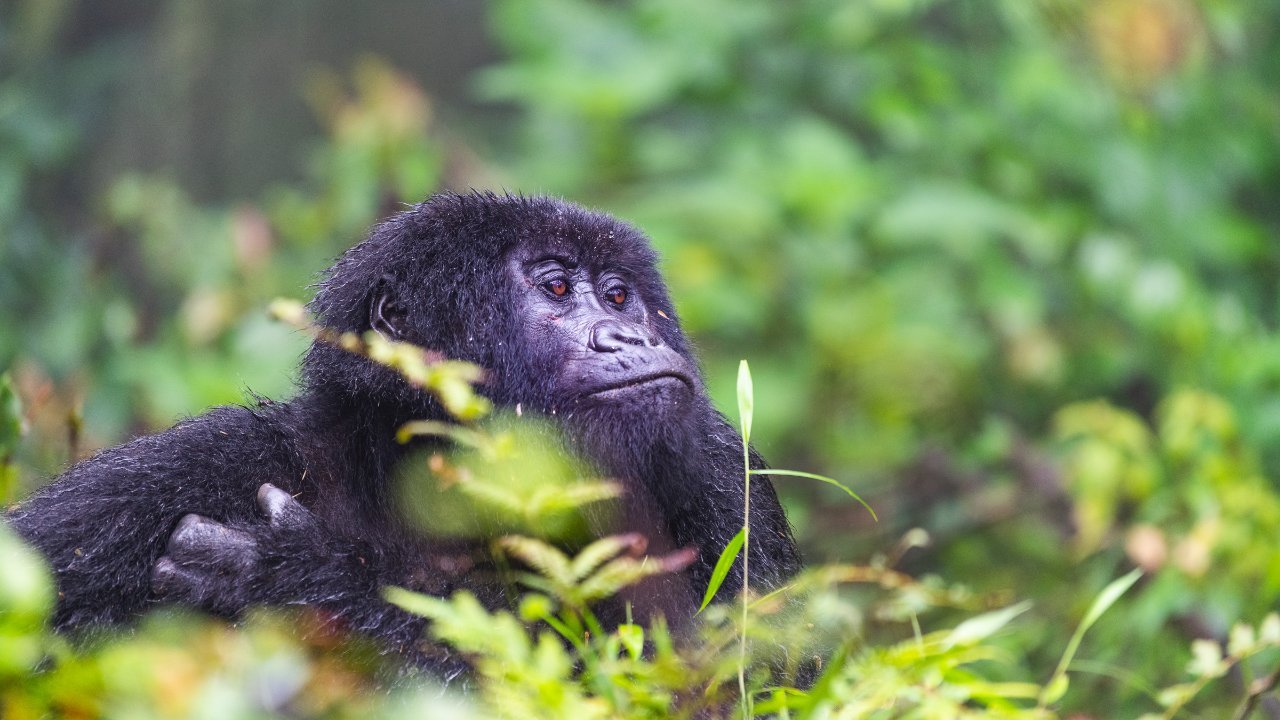 As you prepare for mountain gorilla tracking, it's not always easy to know what to bring. So here is a list of the most important things that you should bring with you for a day of mountain gorilla tracking.
Waterproof shoes and rainproof jacket: These are essential for the rainy season, however, you are advised to carry them along even during the know dry seasons because sometimes it rains since this is a tropical mountainous rain forest.
A walking stick: This can help you hike up steep slopes and go over rough terrain more easily.
Drinking water: Bring along at least 1 litre of water and make sure you drink plenty of water to stay hydrated and pack some snacks in case you get hungry on the way back down.
Hand gloves: An old pair of Garden Gloves can come in handy, to protect your hands from thorns and other sharp objects that might scratch you on your journey.
Camera: Your camera can be used for taking photos or videos, so bring one if you have one!
Gorilla habituation experience
Gorilla habituation, a crucial component of the Mountain Gorilla Conservation Program, is the process through which gorillas get used to people. Because one spends more time in the forest following the gorillas with the study and receiving an insight into what happens during the habituation process, the exercise is considerably different from the typical gorilla tracking experience.
As a member of the team, you will have responsibilities including keeping records and gathering dung samples for analysis.
You will spend longer time (at least 4 hours) with gorillas when you come across them, but be aware that they are not yet completely habituated and may charge or flee.
Mountain Gorilla Habituation experiences fees
The fees for the period 2022 to 2024 are as follows
East African Citizens: UGX 750,000
Foreign Residents: $1,000
Foreign Non-Residents $1,500
Tour Companies that offer Gorilla trekking Safaris
Engabo Safaris: They offer a 5 day Gorilla and Wildlife Safari. With this safari, you have a chance to catch a glimpse at a group of mountain gorillas in Uganda's Bwindi National Park and wildlife exploration in the wilderness area of Queen Elizabeth National Park.
Bird Uganda Safaris: Bird Uganda takes you on this thrilling Uganda Primates Safari experience. Uganda Primates Safari Tour offers a once-in-a-lifetime opportunity for ape enthusiasts to locate some of Africa's rarest primates.