Queen Elizabeth National Park is one of the oldest protected places in Uganda, having an extent of 1,978 km2, in the western part of Uganda. It was once a couple of wildlife reserves known as Lake George and Lake Edward, but in 1952 it was made into Uganda's first national park, then known as Kazinga National Park. The park's name was changed from Kazinga to honour Queen Elizabeth II visit the following year. With its ease of access and and varied wildlife it is the most visited national park.
Queen Elizabeth National Park is the most popular park for a Uganda safari because of its natural beauty and diverse wildlife. The diverse ecosystems of the area, which include broad savanna, brilliant lakes, deep forests, and verdant wetlands, support the survival of classic large game, monkeys, and birds.
The park is situated on the equator. Two concrete rings indicate where the "00" line and Kasese Road join.
Although Lake Edward's shoreline is just 910 metres below sea level, the highest point is located on the Katwe Explosion Craters, which are 1,350 metres above sea level.
Awe-inspiring views can be found in the Kasenyi and Mitumbe mountains in the Congo, soaring above the far-off western shore of Lake Edward, the rolling hills dotted with extinct volcanic craters, the Kazinga Channel, which is home to hippopotamuses, the open rift valley savannah grasslands at Ishasha, and the Rwenzori Mountains, which provide a dramatic backdrop.
The region surrounding Queen Elizabeth National Park is also very significant, both historically and culturally. There are many opportunities to interact with people and take part in their storytelling, dancing, singing, and other customs.
Wildlife
Queen Elizabeth National Park is home to an extraordinary variety of wildlife despite its comparatively small area, with more mammal species (95) than any other Ugandan park and more than 600 bird species.
Buffalo, elephants, and hippos—all common safari favourites—should be visible. You have a good possibility of seeing lions in the plains of Kasenyi and Ishasha with a ranger guide, and you almost certainly will see leopards in Mweya and along the nearby Channel Track.
Due to the diversity of habitats presents there, Bird International has classified Queen Elizabeth National Park as an Important Bird Area. It is home to wildlife from three different biomes because of its location at the intersection of the vast Congo tropical rainforest and the East African savanna.
Activities in Queen Elizabeth National Park
The Mweya Peninsula and Kazinga Channel
The park's main tourist attraction is the Mweya Peninsula, which is situated 22 kilometres west of the Kasese-Mbarara Road. On a hilltop overlooking Lake Edward and the Kazinga Channel, Mweya offers a range of housing options, including luxury resorts and cheap hotels managed by the Uganda Wildlife Authority, as well as a dock for launch trips along the channel and a tourist centre. In addition to having exhibits about the park and the rift valley itself, the later building is where you'll plan your activities.
Boat Cruise
A boat safari in Queen Elizabeth National Park is a great way to experience the park and see a variety of wildlife.
During a boat safari, you'll have the opportunity to see animals up close as you float down the Kazinga Channel, a natural channel that connects Lake Edward and Lake George. You may also have the chance to see hippos and crocodiles sunning themselves on the banks of the channel.
To take a boat safari in Queen Elizabeth National Park, you'll need to arrange a tour with a tour operator or you could also book directly with Uganda Wildlife Authority. It's a good idea to book in advance, especially during peak tourist season.
Wildlife Safari Game drives
Large herds of Uganda kobs and the pride of lions that hunt on them make the grasslands of Kasenyi, which are situated half an hour from Mweya, the best place to see wildlife in the heart of Queen Elizabeth National Park.
If you book a trip with the Uganda Predator Project out of Mweya, you'll get to see radio-collared lions, leopards, and hyaenas. Lions are often seen by experienced ranger guides in Kasenyi.
Ishasha
The southernmost portion of Queen Elizabeth National Park offers a classic game viewing experience under the expansive rift valley sky and is conveniently located on the route to Bwindi Impenetrable National Park. Most likely, you'll witness animals like topis, hippopotamuses, buffaloes, and elephants.
Tree-climbing lions are a rare sight to behold and can be found in the Ishasha sector of Queen Elizabeth National Park in Uganda. These lions climb the Acacia and Sycamore fig trees for shelter from the sun and rain, as well as for a better view of hunting prey.
This area of the park provides an ideal habitat for the tree-climbing lions, with vast land for them to roam and other animals for them to hunt. But the growing number of people, natural deaths, and fights between dominant males all pose risks to them.
Tourists can stay at the nearby Enjojo Lodge, Ishasha Jungle Lodge, Ishasha Tree Climbing Lions View Lodge, Ishasha Wilderness Camp, and Topi Lodge Ishasha to get a better view of the lions lazing around in the trees.
Kyambura Gorge
Kyambura Gorge, also known as the "Valley of Apes," is a stunning natural feature located within Queen Elizabeth National Park in Uganda. The gorge is a deep ravine that was formed by the Kyambura River, which flows through the park. It is known for its rich biodiversity and is home to a variety of animals, including chimpanzees, monkeys, and a variety of bird species.
One of the main attractions of Kyambura Gorge is the opportunity to go on a chimpanzee trekking safari. During a chimpanzee trekking safari, you'll have the chance to see these intelligent primates up close as they go about their daily activities. You'll be guided by an experienced tracker who will help you locate the chimpanzees and provide information about their behavior and habitat.
In addition to chimpanzee trekking, visitors to Kyambura Gorge can also go on guided walks through the gorge, where they can learn about the local flora and fauna and enjoy the beautiful scenery. The gorge is a great place to go for a nature walk and get away from the crowds.
Rainforest of Maramagambo
Maramagambo Forest, a famous tourist site inside Queen Elizabeth National Park, is a huge, deep tropical rainforest. It is the foundation of the Kichwamaba Escarpment.
The forest is home to a wide diversity of plant and animal life, including monkeys, birds, butterflies, and reptiles of various species.
Visitors may participate in a variety of activities such as guided nature excursions, birding, and chimp tracking. A nature walk allows you to explore the forest up close and learn about the local flora and wildlife from a qualified guide. A variety of bird species, including the white-naped pigeon, woodland flycatcher, and the spectacular Rwenzori turaco, may be seen.
Lake Nyamusingire (three linked crater lakes; here you'll discover the African finfoot) and the Bat Cave, noted for its resident Python that feeds on unfortunate bats who fall from the cave's ceiling.
Birding in the Queen Elizabeth National Park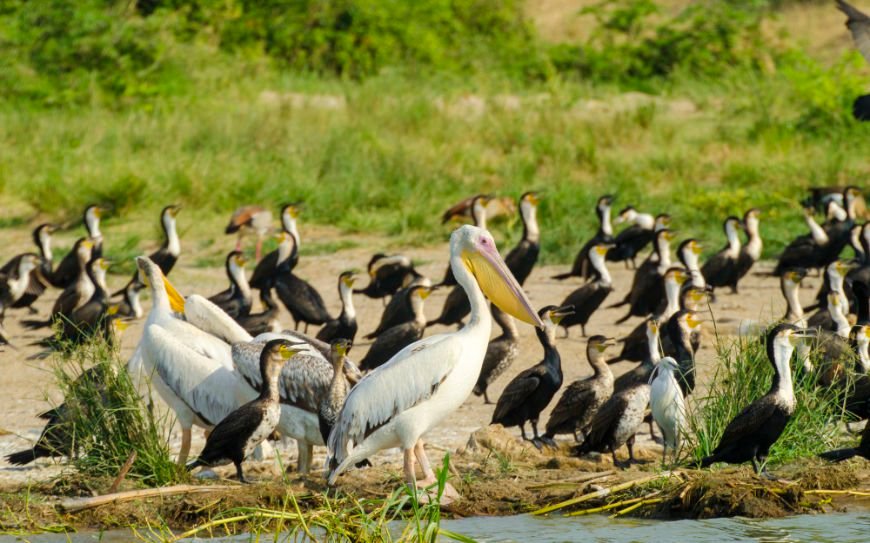 A wonderful opportunity to observe a variety of bird species in their natural environment is to go on a birding safari in Uganda's Queen Elizabeth National Park. One of the most diversified national parks in the nation for birding is Queen Elizabeth National Park, which is located in western Uganda and is home to over 600 bird species.
On a birding safari in Queen Elizabeth National Park, you could encounter some of the following bird species:
African Skimmer: a distinctive bird with a long, thin bill that it uses to skim the surface of the water for fish.
African Fish Eagle: a large, majestic eagle with a distinctive call that is often heard throughout the park.
Black-headed Gonolek: a brightly colored songbird with a distinctive black head and orange breast.
Grey-capped Warbler: a small, elusive warbler that is often found in dense vegetation.
Flamingoes: Greater and lesser flamingos are seen in the park, with the smaller flamingo being more frequent. Flamingoes are often seen eating on Katwe and Kyambura soda lakes, filtering tiny crustaceans and other invertebrates from the water with their distinctively bent bills and long, slender legs.
Shoebill: The shoebill is a rare and elusive bird, and it is not commonly seen in the wild. It is thought to occur in small numbers in some of the wetland areas within Queen Elizabeth National Park, although sightings are relatively rare. however one has greater chances on the outskirts of Lake Edward Flats
Visit the park in the dry season (January to February or June to August) when the birds are more active and easier to see, to get the most out of your birding expedition.
See the recent sightings of birds in the park from the regularly updated ebird List
Crater Drive
A remnant of the Albertine Rift's turbulent tectonic history, the landscape is speckled with hundreds of volcanic craters north of Mweya. Crater Drive, which is 27 kilometres long and passes past the beautiful rims of extinct craters that are now filled with lakes, forests, and grasslands, is located between the Kabatoro and Crater gates.
The Queen's Pavilion, which lies close to the Crater Gate on the eastern edge of the crater area, has seen three visits by British royalty. A coffee shop and information centre are provided on site. The equator signs that cross the Kasese highway are a popular spot for photo stops.
Katwe Salt Lake
The community of Katwe, located 12 kilometres from Mweya, has been using evaporation pans to collect salt from the lake's saline waters since the 14th century. Local guides will lead tourists inside the crater so they may see the process firsthand.
Lesser flamingos and other waterbirds travel through the region from August to November, landing at the neighbouring Lake Munyanyange.
Kyambura Wildlife Reserve
The crater lakes that are scattered across this little reserve to the east of Kyambura Gorge are frequented by both greater and lesser flamingos.
The Gorge is also a refuge for Chimpanzees: A tiny, isolated group now known as the "Lost Chimpanzees" that lives in the ethereal forests of the gorge. These chimpanzees are lone survivors cut off from the other populations in the bigger forested portion of the Maramagambo as a result of the region's historical deforestation.
These chimpanzees are the only habituated ones in the area, and they are now protected in the Kyambura Game Reserve, which was established as a buffer zone to the national park. Chimpanzees can travel great distances in a short amount of time, so finding them is not always a guarantee.
One Travellers Experience in the Park
Local Communities and Culture
Local communities around Queen Elizabeth National Park have a vibrant culture and many captivating cultural features to explore. Visitors to the park can experience traditional dances, songs, and activities of the local ethnic groups such as the Bakonzo, Banyabindi, and Basongora.
There are also replicas of traditional huts, handicrafts made by local community members, a cultural museum with artefacts, and a historic cave.
In addition, visitors can explore the Nyanz'ibiri Cave Community, the Leopard Village, and the Kikorongo Women Community.
These communities are connected to the national park through social-economic development initiatives and conservation efforts. Furthermore, visitors can enjoy scenic views of the area including volcanic crater lakes, the Uganda crested crane, and eagles.
Accommodation: Safari Lodges, Camps and Resorts
Numerous bed and breakfasts, hotels, motels, and campgrounds are available both within and outside the park. Both large, fully furnished bungalows with five to seven bedrooms and kitchen facilities, as well as more affordable cottages with two to three beds, are available on the Uganda Wildlife Authority's Mweya campus. Both Mweya and Ishasha provide camping opportunities. some of the key accommodation properties are: Elephant Plains Lodge, Jacana Safari Lodge, Kikorongo Safari Lodge Kyangabi Crater Resort, Little Elephant Camp, Mweya Safari Lodge, Simba Safari Camp
How to get to Queen Elizabeth National Park
By road
The primary tourist site in Queen Elizabeth National Park, Mweya, is linked to Kampala by two distinct highways. The most attractive route, which passes through Fort Portal, provides easy access to the national parks of Kibale, Semuliki, and the Rwenzori Mountains (410 km). Another route (420 km) passes via the towns of Bushenyi and Mbarara as well as the Lake Mburo National Park.
The main trailhead for mountain gorilla tracking in Bwindi Impenetrable National Park is 62 kilometres south of Queen Elizabeth National Park's southern Ishasha sector.
By Air
Aerodromes are accessible at Kasese, Mweya, and Ishasha using chartered planes.
CLIMATE
Throughout the day, temperatures are often between 18 and 280 degrees Celsius. It could become cold at night.
Best time to visit Queen Elizabeth National park?
If you are planning to visit Queen Elizabeth National Park, the park is open all year round as a safari destination; however, the best time to visit depends on several factors, including your interests and the type of activities you want to do. Here are a few general guidelines to help you plan your safari tour:
Peak season: The park is busiest and most crowded from June to August and December to February when the weather is generally dry and sunny. This is a good time to visit if you want to see a wide variety of wildlife, as the animals tend to be more active during the dry season. However, accommodations and activities may be more expensive and harder to book during this time.
Off-peak season: The park is less crowded and accommodations may be more available from March to May and September to November. This is also a good time to visit if you want to avoid the crowds and get more of a "wilderness" experience. However, be aware that the weather can be unpredictable during this time, with occasional showers and thunderstorms.
Park Fees
| | | | |
| --- | --- | --- | --- |
| | Foreign | Resident |  E.Africans |
| | $ | $ | UGX '000 |
| Park Entrance | 40 | 30 | 20 |
| Game Drive | 30 | 25 | 30 |
| Launch Trip | 30 | 25 | 30 |
| Nature Walk | 15 | 10 | 10 |
| Mongoose | 30 | 25 | 30 |
| Hippo Census | 100 | 80 | 100 |
| Lion Tracking | 100 | 80 | 100 |
| Chimp Tacking | 50 | 40 | 30 |
Details on park admission and activity fees may be found on the Uganda Wildlife Authority tariff sheet at www.ugandawildlife.org.
Payment may be made in Ugandan shillings, British pounds, US dollars, euros, Mastercard, or Visa.
20% of all park admission fees are given to neighbouring communities as part of a revenue sharing programme in an effort to share the benefits of ecotourism and encourage local support for environmental protection.
What is Queen Elizabeth National Park famous for?
Queen Elizabeth National Park, located in southwestern Uganda, is one of the most renowned parks in the world. The park is famous for its vast population of elephants, buffalo, and tree-climbing lions that are a major attraction for tourists from all over the world. The park is home to over 95 species of mammals, including the rare giant forest hog and the elusive leopards. The park is also home to approximately 500 species of birds, making it one of the best birdwatching destinations in Africa. The park's most popular attraction is the Kazinga Channel, which offers visitors an opportunity to witness one of nature's most spectacular displays of wildlife. Visitors can enjoy a boat ride along the channel to see hippos, elephants, buffalo, and various bird species. With its unique landscape, abundant wildlife, and stunning views, Queen Elizabeth National Park remains one of the most spectacular national parks in the world.
Where is Queen Elizabeth National Park situated?
Queen Elizabeth National Park is located at 00°08′14′′S 30°02′28′′E. Those using GPS devices may find these coordinates useful in finding the park.
The park is located about 255 miles (410 kilometres) west of Kampala, Uganda's capital. It takes at least 7 or 8 hours to travel from Kampala to the park, more if there is heavy traffic. Many visitors choose to drive themselves or rent a vehicle despite the lengthy journey required to reach the park. The trip itself is beautiful, and there are plenty of points of interest, like the Equator line, to break up the journey.
From Entebbe, you may take a domestic flight with an airline like Aerolink, Bar Aviation, or Air Uganda for a quicker and more comfortable trip. The flights take around an hour, and after you land at the Kasese Airstrip, the park is a little drive away.
Do you have to pay for Queen Elizabeth Park?
Park entrance is $40 for Foreign Tourists, $30 for Foreign Residents and UGX20,000 for East African Citizens