Maasai Mara National Reserve
Maasai Mara National Reserve, is a conservation area in Narok, Kenya, it borders the Serengeti National Park in Tanzania. Established in 1961 and approximately 1510km2, it is the most visited conservation area in Kenya.
Famous for the one of the biggest animal migration in the world which comprises of wildebeest Zebra and Thomson's Gazelle . This migration occurs annually when the animals move from their wintering grounds in Tanzania and into Kenya. The migrating wildebeest can be seen from sunrise to sunset as they make their way across the plains looking for water and shade from the sun.
It has an array of wildlife including the big five: Rhino, Elephant, leopard, lion and buffalo. Also, the cheetah is a common hunter of antelope in the plains.
Masai culture has been one of the main attractions for tourists who visit this area. The Masai people live in small communities within villages located throughout this reserve. They are known for their unique culture and lifestyle which includes wearing colourful clothes made out of fabrics with mostly red tones.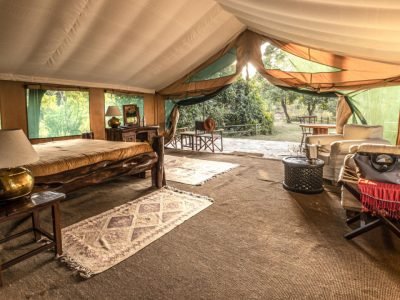 Governer's Camp, Masai Mara, Kenya
Governor's Camp is a camp located along the forested section of the Masai River in the Masai Mara Nature Reserve, Kenya. Established in 1972
Unfortunately no tours were found.
