Maasai Mara National Reserve
Maasai Mara National Reserve, is a conservation area in Narok, Kenya, it borders the Serengeti National Park in Tanzania. Established in 1961 and approximately 1510km2, it is the most visited conservation area in Kenya.
Famous for one of the biggest animal migrations in the world which comprises wildebeest Zebra and Thomson's Gazelle. This migration occurs annually when the animals move from their wintering grounds in Tanzania and into Kenya. The migrating wildebeest can be seen from sunrise to sunset as they make their way across the plains looking for water and shade from the sun.
It has an array of wildlife including the big five: Rhino, Elephant, leopard, lion and buffalo. Also, the cheetah is a common hunter of antelope in the plains.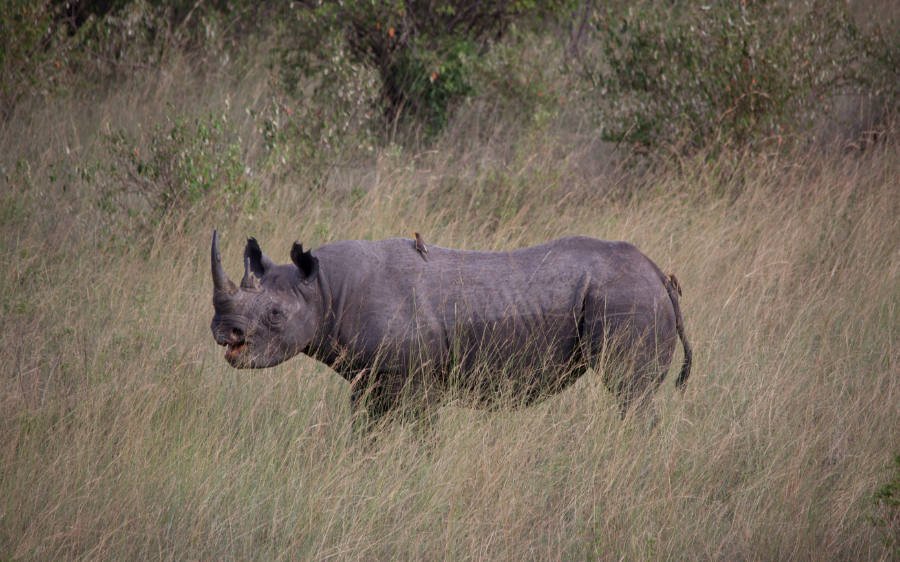 Masai culture has been one of the main attractions for tourists who visit this area. The Masai people live in small communities within villages located throughout this reserve. They are known for their unique culture and lifestyle which includes wearing colourful clothes made out of fabrics with mostly red tones.
WILDLIFE AND GAME VIEWING IN MAASAI MARA NATIONAL RESERVE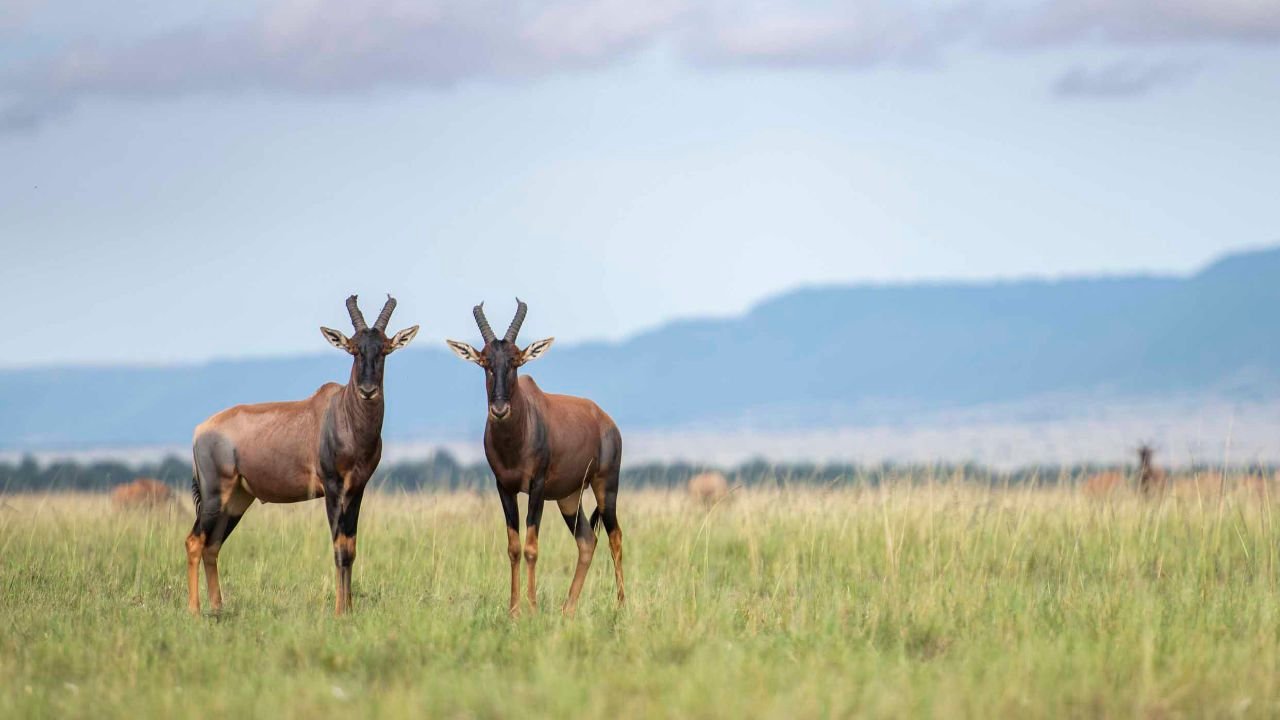 The Maasai Mara National Reserve in southern Kenya is a wildlife sanctuary that attracts tourists from all over the world.
The herds of blue wildebeest, plains zebra, topi, and Thomson's gazelle that migrate from the Serengeti plains and Loita Plains in the north-east to the reserve from July to October or later are perhaps the most renowned inhabitants of the Maasai Mara. During this time, the herds congregate around the rivers and waterholes in the park, making them easier to detect. It is believed that these herds number in the millions, making it one of the world's biggest animal spectacles.
In addition to the migratory species, the park is home to the "Big Five,": lions, leopards, elephants, buffaloes, and black and white rhinos. Poaching has severely decreased the black rhino herd in the past, but their numbers are steadily rising. Currently, the Maasai Mara is the only Kenyan protected region with a native black rhino population, giving it one of the few places in the world to witness these majestic animals in their natural environment.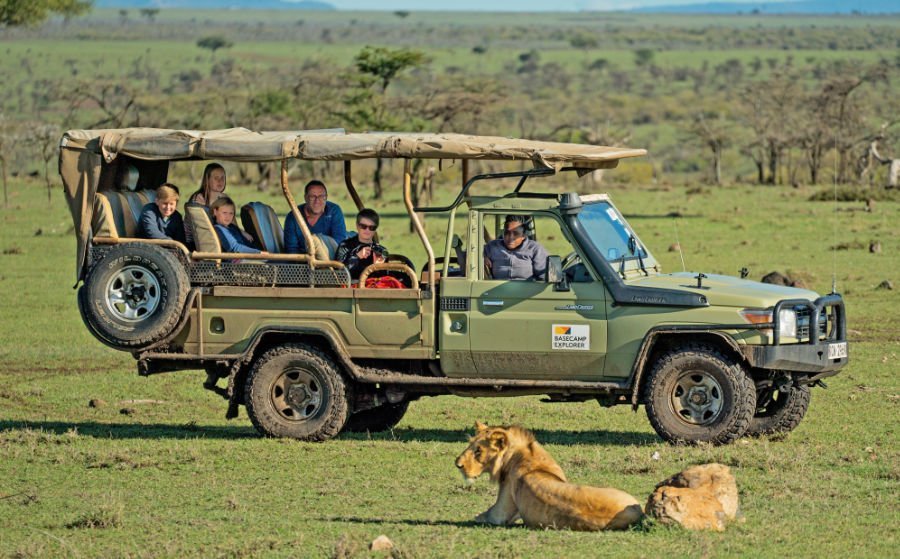 The Mara and Talek Rivers that transect the park are home to significant populations of hippopotamuses and Nile crocodiles. Some large predators, including lions, spotted hyenas, leopards, and East African cheetahs, find these rivers to be a perfect home. The lion is the most dominating predator in the area and may be seen in abundance here. On the other hand, spotted hyenas are known to compete with lions for food, but leopards are typically found in places with trees for cover.
In addition to these large carnivores, the park is home to a variety of smaller carnivores, including African wild dogs, African wolves, black-backed jackals, African striped weasels, caracals, servals, honey badgers, aardwolves, African wildcats, side-striped jackals, bat-eared foxes, striped polecats, African civets, genets, mongoose species and African clawless otters.
The Maasai Mara is also a birdwatcher's delight, with over 470 species of birds documented in the area, many of which are migratory. The park is especially famous among bird watchers because of its broad assortment of raptors, with approximately 60 species of these majestic birds calling it home. Vultures, marabou storks, secretary birds, hornbills, crowned cranes, ostriches, long-crested eagles, African pygmy-falcons, and the lilac-breasted roller, the national bird of Kenya, are among the species that may be observed here.
BIRDS AND BIRD WATCHING
This Reserve is a paradise for birdwatchers, with over 570 recorded bird species, including 60 raptors, making it one of Kenya's premier birding destinations. The reserve boasts a diverse array of bird species that can be found in different habitats such as the savannah, river, escarpment plains, and the rift valley. This variety of habitats provides birdwatchers with ample opportunities to spot rare and unique bird species.
Ostriches, the largest bird species, are commonly seen in the reserve, as well as migrating bird species that can be seen between November and February, and weaver birds and bishops occupying the Mara River from June to July. Birding in Maasai Mara National Reserve is an extraordinary experience that takes you through different habitats, and it's best done with binoculars. The flat plains of the savannah provide excellent visibility from all angles, and under the shade of a tree, you can rest and take in the spectacular sight of beautiful bird species while enjoying your drinks.
Maasai Mara National Reserve is not only known for its wildlife safaris but also for its impressive diversity of bird species. It is a pride of Kenya to have such a high population of unique bird species compared to other national parks. Travelers are often fascinated by the uniqueness of the birds spotted in the reserve due to its interesting climatic weather conditions that bring rare bird species to the area.
The reserve is a must-visit for bird enthusiasts, with a vast diversity of unique bird species, including Abdim's stork, African finfoot, African wood owl, Ayres's hawk-eagle, Cinnamon-breasted bunting, Denham's bustard, Giant kingfisher, Grey-crested helmet-shrike, Grey penduline tit, Hildebrandt's starling, Jackson's widowbird, Lazy cisticola, Ostrich, Purple grenadier, Red-throated tit, Ross's turaco, Rosy-throated longclaw, Rufous-bellied heron, Rufous-necked wryneck, Saddle-billed stork, Schalow's turaco, Secretary bird, Silverbird, Southern ground hornbill, Swahili sparrow, Tabora cisticola, Temminck's courser, Trilling cisticola, Usambiro barbet, White-bellied go-away bird, Woolly-necked stork, Yellow-mantled widowbird, and Yellow-throated sandgrouse.
LOCAL COMMUNITIES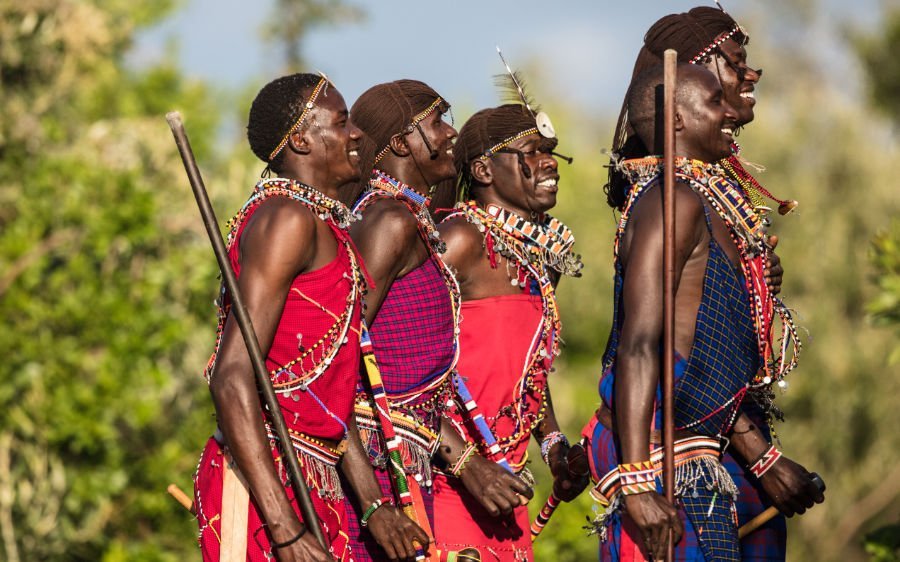 Historically, Kenya and Tanzania have been home to the Maasai, a fascinating and culturally significant ethnic group.  The Maasai people, who live in and around the several wildlife parks found in and around the African Great Lakes, are well-known worldwide for their distinctive culture and attire.
Like the Dinka, Kalenjin, and Nuer languages, the Maasai language is part of the Nilotic branch of the family of languages. Some Maasai seniors in more remote places may only speak Maa, although the vast majority of Maasai are fluent in Swahili and English, the national languages of Kenya and Tanzania.
There were 377,089 Maasai in Kenya in 1989, but the 2019 census estimates that there are now 1,189,522 of them. Many Maasai, however, consider the census an intrusion of government power and either refuse to take part in it or knowingly give inaccurate data.
At the middle of the nineteenth century, Maasai territory stretched from Mount Marsabit in the north to Dodoma in the south and beyond. The Maasai now extend their cow herds all the way to Tanganyika's eastern shore at Tanga (now mainland Tanzania). In addition to spears and shields, raiders were also a threat because of the accuracy with which they threw clubs, often from a distance of 70 yards or more (approximately 100 meters).
The Maasai, along with other East African communities, have absorbed many of the customs and practices of their Cushitic-speaking neighbors. These include the use of an age-based social hierarchy, circumcision, and a number of lexical and other words. Several of the indigenous peoples who had established communities in the area were driven away by the Maasai, while others, mostly those of Southern Cushitic ancestry, were absorbed into Maasai culture.
Despite pressure from the governments of Tanzania and Kenya, the Maasai continue to live as pastoralists. Several national parks in both nations have been designated as grazing areas. In Kenya, land was appropriated for Amboseli National Park, Nairobi National Park, Maasai Mara, Samburu National Reserve, Lake Nakuru National Park, and Tsavo; in what is now Tanzania, land was appropriated for Lake Manyara, Ngorongoro Conservation Area, Tarangire, and Serengeti National Park.
There are still pockets of traditional Maasai society in and around Kenya's Maasai Mara National Reserve. Several Maasai communities in Kenya and Tanzania charge tourists a fee to immerse themselves in the local way of life and culture. The beautiful beadwork and one-of-a-kind jewelry of the Maasai, as well as the culture's renowned leaping dance, are all on display for curious onlookers.
The Maasai people have always opposed slavery and human trafficking. The Maasai were avoided by those from outside wanting to enslave locals. The Maasai are one of Africa's most distinctive cultures because they have refused to abandon their ancient practices.
ACTIVITIES AND ATTRACTIONS
Here are 8 must-do activities and attractions to experience in the Maasai Mara:
Embark on a Classic Wildlife African Safari on Game Drives Set out on a journey to discover the wondrous wildlife of Maasai Mara with expert rangers. The game drives are interpretive, giving you a deeper understanding of the land and its inhabitants.
Take a migration safari and witness the Great Wildebeest Migration Experience one of the world's most incredible wildlife spectacles, the Great Wildebeest Migration. Watch as thousands of wildebeest and other animals make their way across the Mara River.

The great migration Maasai Mara Migration | Shripal Daphtary Unsplash.com

Explore the Open Savannah on Foot with Walking Safaris Get in touch with your adventurous spirit and explore the savannah on foot with a guided walking safari. Hear the sound of crickets, breathe in the fresh air, and feel the African soil beneath your feet.
Photograph lions Capture stunning photographs of the "king of the jungle" in their natural habitat. The Maasai Mara is home to a large population of lions, providing plenty of opportunities for wildlife photography.
Take to the Skies with a Hot Air Balloon Safari Experience the breathtaking beauty of the Maasai Mara from a bird's eye view with a hot air balloon safari. Witness the sunrise over the savannah as you soar high above the treetops.
Connect with the Maasai on a Community Visit Get to know the Maasai people and their culture by visiting a local community. Learn about their customs, dress, and way of life from the Maasai themselves and get a chance to see the inside of the traditional Maasai manyatta
Go on a Horseback Safari Experience the Maasai Mara in a unique way by going on a horseback safari. Explore the savannah and spot wildlife while on horseback.
Celebrate the Sunset with Maasai Warriors Watch the sun set over the savannah and join the Maasai warriors in a traditional dance. Experience the magic of the Maasai Mara as the sky transforms into a stunning canvas of colours.
Have the children experience the Maasai way of life at the mongoose kids Club by Governor's Camp.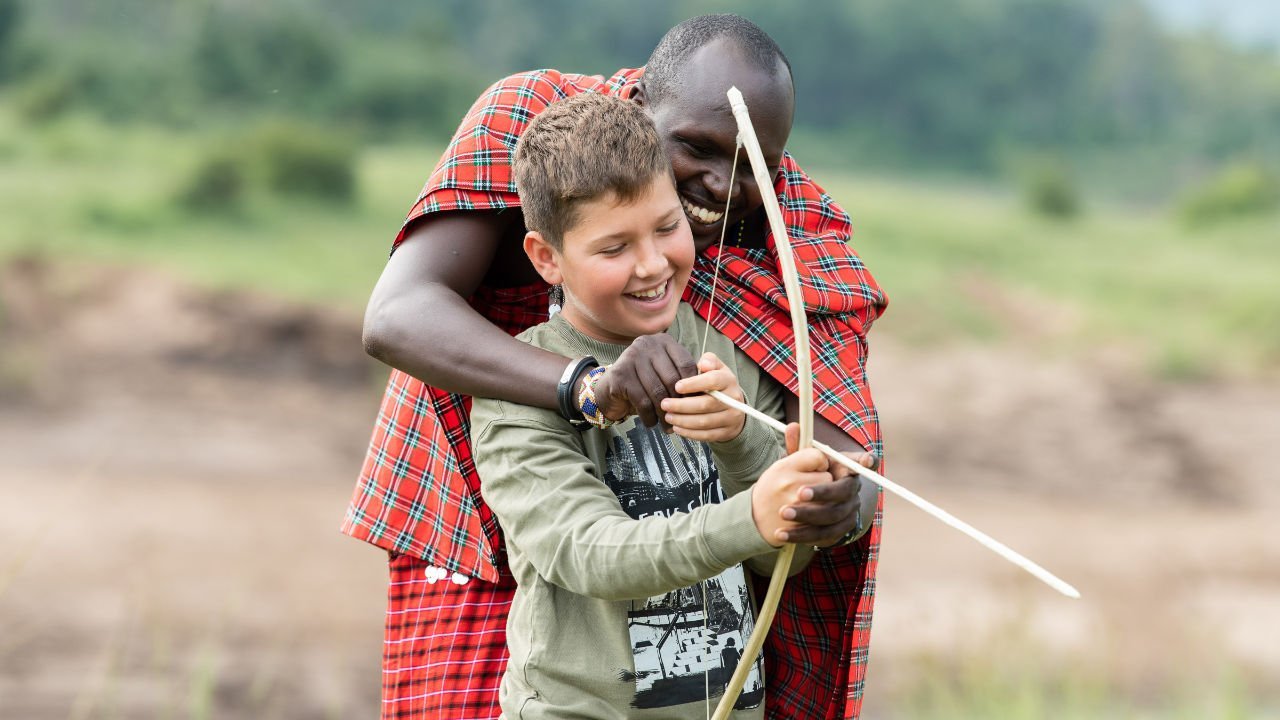 WEATHER AND CLIMATE
Maasai Mara National Reserve has a tropical climate with two distinct seasons, namely the rainy and dry seasons. The dry season, which lasts from June to October and is characterised by bright and dry weather, is the finest time to observe animals, especially the famed wildebeest migration.
Yet, this time of year is typically the most congested, with several people flocking to the area. The rainy season, which lasts from November to May, is characterised by light rainfall in November and December and extensive rains from March to May. Although though the park is less crowded during this time, animal viewing may still be exceptional, with bird watching being particularly noteworthy.
THE BEST TIME TO VISIT THE RESERVE
Maasai Mara is primarily visited during the dry season, which runs from June through October. Now is the ideal time to explore the park's wide savannahs because the weather is bright and dry with little to no rain. It is simple to identify wildlife since it congregates around water sources like rivers and ponds.
Visitors may anticipate seeing vast herds of elephants, lions, cheetahs, and other wildlife wandering the plains. The famed wildebeest migration, which takes place in September and October when the animals cross the Mara River in search of greener pastures, is the highlight of the dry season.
Nevertheless, the dry season is also the busiest period in the park, so tourists should plan accordingly. Good sightings tend to attract a lot of vehicles, and most of the park gets very crowded, especially during the peak season. To minimize disappointment, you must plan ahead and reserve your lodging and safari activities.
The wet season, which runs from November through May, is very different. Fewer visitors mean a more intimate experience with the park's fauna. The park is green and full of flowering trees, and the sky is clear of dust. It's a nice time to watch baby animals and see the migrating birds that stop by the park at this time. The variety of bird species that may be seen in the park will excite birdwatchers.
Visitors should be aware that inclement weather in the months of March, April, and November can occasionally impede scheduled activities and make driving hazardous. In spite of this, the Mara is still a great place to see wildlife because there are so many creatures that live there all the time. April and May are considered off-peak months, so visitors may save money by going to the park during those months.
GETTING TO THE PARK
There are several ways to get to the Maasai Mara National Reserve, depending on your preference and budget.
By Air: The quickest and most convenient way to get to Maasai Mara is by taking a domestic flight from Nairobi Wilson Airport to one of the airstrips located within the park or just outside it. There are several airlines that operate daily flights to the Maasai Mara, including SafariLink, Air Kenya, and Fly540.
By Road: You can also get to Maasai Mara by road, either by private or public means. The park is about 4 hours, 42 minutes (256.0 km) via road B3 and road C12 from Nairobi. The road is usually bumpy and rough, especially during the rainy season, so a 4×4 vehicle is recommended.
Combination of Air and Road: Another option is to combine air and road transport to get to the Maasai Mara. You can take a flight to the park and then continue with a game drive in a 4×4 vehicle.
Organized Safari: You can also opt for an organised safari package that includes transportation to and from the park, as well as accommodation, meals, and game drives. Many tour operators in Kenya offer such packages, and you can choose one that suits your budget and preferences.
ACCOMMODATION OPTIONS
In and around the Maasai Mara National Reserve, there are several lodging alternatives to suit all tastes and budgets. There is something for everyone in the Mara, whether you want to go camping on a tight budget, in a fancy resort, or in a tented camp. Below are some of the most popular accommodation facilities in and around the reserve:
Basecamp Explorer: In the centre of the Maasai Mara, there is a luxurious tented camp called Basecamp Explorer. The camp provides a distinctive fusion of contemporary luxury and traditional Maasai culture, with roomy tents furnished with cozy mattresses, private verandas, and en-suite toilets. Apart from these amenities, the camp offers a number of activities, including wildlife drives, hot air balloon safaris, and cultural excursions to surrounding Maasai communities. It also features a restaurant and a bar.

Base Camp Tented Bedroom Maasai Mara National Reserve Kenya
Mara Bush Camp: Mara Bush Camp is an affordable choice for anyone who wants to visit the Maasai Mara on a tight budget. The camp provides cosy tents with the bare necessities, such as mattresses, linens, and private restrooms. Also, there is a restaurant within the camp that serves both local and foreign food, and it also provides game drives, guided hikes, and cultural excursions to adjacent towns.
Mara Serena Safari Lodge:  This is an opulent lodge perched on a hilltop with views of the Mara River. The lodge features a restaurant providing both local and foreign cuisine, a swimming pool, and a spa. The rooms are roomy and have individual balconies. The lodge also provides hot air balloon safaris, wildlife drives, and guided hikes.
Olare Mara Kempinski is a luxurious resort that is situated in a private preserve next to the Maasai Mara National Reserve. The lodge features opulent tents with private plunge pools, a spa, a fitness area, a restaurant serving both local and foreign cuisine, and a range of activities, including game drives, guided walks, and cultural excursions to adjacent towns.
Angama Mara Lodge. Perched on an escarpment 300 metres above the plains of the Maasai Mara National Reserve, this luxury lodge offers breathtaking views of one of the world's most spectacular wildlife destinations.

Angama Tented Suites Maasai Mara National Reserve, Kenya

Mara Plains Camp is a five-star tented camp next to the Maasai Mara National Reserve in the Olare Motorogi Conservancy. The camp features roomy tents with individual verandas, a restaurant providing both local and foreign cuisine, a bar, a swimming pool, and a range of activities, such as game drives, guided walks, and hot air balloon safaris.
Sentrim Mara Camp: Situated in the plains of the Maasai Mara National Reserve, Sentrim Mara Camp is a mid-range tented camp. The camp provides cosy tents with private toilets, as well as a restaurant providing both local and foreign cuisine, a bar, and a swimming pool. Moreover, the camp provides wildlife drives and escorted walks.
Mara Intrepids Camp is a luxurious tented camp situated in the centre of the Maasai Mara National Reserve on the banks of the Talek River. The camp features roomy tents with individual verandas, a restaurant providing both local and foreign cuisine, a bar, a swimming pool, and a range of activities, such as game drives, guided walks, and hot air balloon safaris.
Kichwa Tembo Tented Camp: On the outskirts of the Maasai Mara National Reserve, in the Oloololo Conservancy, lies a luxurious tented camp called Kichwa Tembo Tented Camp. The camp features roomy tents with individual verandas, a restaurant providing both local and foreign cuisine, a bar, a swimming pool, and a range of activities, such as game drives, guided walks, and hot air balloon safaris.
Spirit of Masai: Located in the Siana Conservancy in Kenya's Maasai Mara National Reserve, Spirit of the Masai Mara is a luxurious lodge offering an unforgettable African experience. With its secluded valley setting and stunning views of the surrounding wildlife, the lodge provides guests with complete privacy and immersion in the African wilderness.

Spirit of Masai Mara, Maasai Mara National Reserve Kenya
SAMPLE  TRIP FOR A FIRST-TIME VISITOR TO  MAASAI MARA NATIONAL RESERVE.
This schedule is only a suggestion and can be altered according to your preferences. Consider adding extra days to your itinerary if you wish to spend more time in the reserve or visit other neighbouring regions.
Day 1: Arrival in Nairobi and hotel transfer
Depending on your arrival time, you can engage in some Nairobi tourism, such as visiting the Giraffe Centre or David Sheldrick Elephant Orphanage.
Stay the night in Nairobi
Day 2: Arrival at your destination in the Reserve.
Go for Maasai Mara National Reserve after breakfast (about a 5-6 hour drive)
Arrive in time for lunch at your designated lodging.
Have an afternoon game drive in the reserve to begin viewing lions, elephants, zebras, and wildebeest.
Dinner and stay at the hotel of your choice in Maasai Mara.
Day 3: Game drive and visit the Maasai
Spend the entire day in Maasai Mara National Reserve, exploring the area and observing the animals on morning and afternoon game drives.
Lunch and leisure at your accommodation of choice
Visit an optional Maasai community to learn about their customs and culture.
Dinner and stay at your Maasai Mara lodge of choice
Day 4: Game drive
Early morning game drive to catch whatever animals you may have missed the previous day.
Return to your lodging for breakfast.
Leave for Nairobi with an afternoon arrival
Transportation to the airport prior to your departure
 FAQS
