Nyerere National Park is  Tanzania's largest national park and one of the world's largest wildlife refuges and national parks. The park's entire size is 30,893 km2, which is larger than more than 70 countries on the globe.
Much of the land is still in its natural form, unaltered by human activity. The Rufiji River is a beautiful river in the park. Rufiji is Tanzania's biggest river and is home to numerous hippopotamuses and crocodiles. It also has one of the world's largest mangrove forests in its delta.
The establishment of Nyerere National Park elevated Tanzania to the position of second most popular African tourist destination in terms of the number of wildlife-protected national parks it owns and maintains, behind South Africa.
It's easy to understand why people would remember a photography safari in the famed and powerful Nyerere National Park for the rest of their lives. The Serengeti of Southern Tanzania might be used to describe the wildlife concentration in this recently founded national park; most intriguingly, the most untamed animals are absent from all other parks in Eastern and Southern Africa. The greatest location for journalists, travel writers, and wildlife photographers is still Nyerere National Park.
Why visit Nyerere National Park?
The park is home to some of East Africa's shyest animals. There are lions, elephants, and many different kinds of antelope, all of which stay away from tourist safari vehicles. Unlike other popular national parks in Africa, such as the Serengeti, the animals in in the park are not used to fleets of tourist vans and humans since the Selous Game Reserve is one of Africa's most isolated or remotest wildlife sanctuaries.
The Selous Game Reserve has been detached from Nyerere National Park, East Africa's biggest wildlife conservation and tourism safari park. This park is a wildlife haven. Unlike other East African parks, it provides a unique setting for wild animals that have not had much interaction with humans.
Nyerere National Park is now being developed to modernise its roads that go through its wildness, as well as its camping areas and other tourist amenities. Except during the wet or rainy seasons, most portions of this park are open all year.
Activities and Attractions
Being the largest park reserve in the country it hosts diverse wildlife experiences that'll have you wanting to come back for more. These include game drives, Nature walks, Boat cruises, and bird watching
Game drives
When visitors arrive at this park, they will see large groups of elephants scrutinising the visitors and their vehicles.
The Park's vast plains are covered with golden grass, savannah, forests, riverine marshes, and lakes that go on forever. Tanzania's longest river, the Rufiji, flows through the park, its brownish waters spilling into the Indian Ocean.
The River Rufiji, which is well renowned for its hundreds of crocodiles, lends extra romanticism to the park. The Rufiji River contains the most crocodiles of any Tanzanian interior stream.
Aside from elephants, which thrive in the park's wildness, the park has the highest number of hippos and buffaloes of any known wildlife park on the African continent.
Motorboat rides down the river in the late afternoon are organised by lodges inside the park for visitors who wish to see hippos and crocodiles along the route.
NATURE WALKS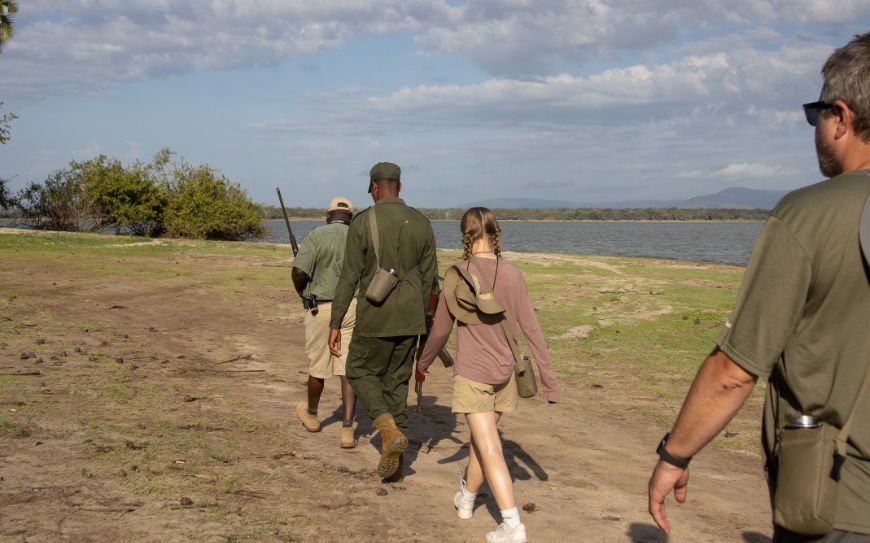 Walking is a great opportunity to connect with nature and learn about some of the park's smaller species, habitats, flora and wildlife. The walk moves slowly, with brief stops where your knowledgeable guide may provide fascinating information.
The Selous Safari Company not only offers game walks to visitors over the age of 16 but also hosts special walks for kids right in the campgrounds before afternoon tea.
Walking safaris are led by both an armed TANAPA guide and an armed, knowledgeable walking guide. In camp, there is an extra walking park cost.
BOAT CRUISES
Discover the wavy waterways of the biggest river delta in East Africa, the Rufiji River. Cruises enter the river when it has rained, but for the rest of the year, Siwandu visitors cruise on Lake Nzerakera in both solid metal boats with covered canopies and their magnificent pontoon boat.
This gives visitors the ultimate pleasure of eating or having a sundowner while on the go and seeing animals go down to the water and the amazing diversity of bird life. You get a free pontoon lunch while you're staying at Siwandu. All further boating activities have an additional expense.
Bird watching
More than 440 bird species have been seen and documented, which is great news for birders and bird enthusiasts. Pink-backed pelicans, yellow-billed storks, African skimmers, white-fronted bee-eaters, gigantic kingfishers, ibises, malachite kingfishers, trumpeter hornbills, purple-crested turacos, Malagasy squacco herons, fish eagles, and many more species may be seen here.
The Current list of birds in the area can be seen on the link Birds of the park and Northern Selous Game Reserve
Visiting Selous' Tomb
Beho Beho, where Captain Frederick Courteney Selous' tomb is situated in southern Tanzania's Serengeti, is worth a brief visit. Captain Selous' burial is a major tourist site inside Nyerere National Park, at a location known as Beho Beho. Captain Selous is recognised as one of the finest hunters, having killed over 1,000 elephants in this reserve. During the First World War, he was killed by a bullet fired by a German sniper in the Beho Beho region while scouting for British allies.
With boat safaris, walking safaris, regular game drives, and renowned fly camping excursions, this enormous park offers more safari activities than any other park in the nation.
How to get to Nyerere National Park
Road safaris from Dar es Salaam or Arusha may take you to the park. The road mileage ranges between 184 and 230 kilometres, depending on which gate or entrance point of Nyerere National Park you choose to visit.
In terms of travel time, most park entrance gates, such as Mtemere and Matembwe, should be allowed 6 hours, while gates on the northern side of Selous Game Reserve should be allowed 6 to 6.5 hours. The route is in terrible shape in spots, with the final 75 kilometres reaching the park on a rough gravel road.
The park is also accessible via air. There are regularly scheduled flights from Dar es Salaam and Zanzibar to a number of airstrips in Nyerere that take less than an hour. This route is served by various airlines, including  Safari Air Link, Coastal Aviation, Auric Air, and Regional Air. All of these airlines provide dependable service and have a solid safety record.
All guests intending a fly-in safari to the park must know which airfield in the park to utilise when booking their flights. There are enough of them around the park to minimise needless lengthy transfers (which also happen to be rather costly). Mtemere, Matambwe, Sumbazi, Kiba, Beho Beho, and Siwandu are among the most prevalent airstrips.