Tsavo West National Park
Tsavo West National Park offers an unrivalled safari experience in Kenya. Discover its natural beauty, diverse habitats, and abundant wildlife, including the famous red elephants, in their natural habitat.
Explore the park's rugged terrain, winding rivers, and panoramic vistas on a thrilling game drive.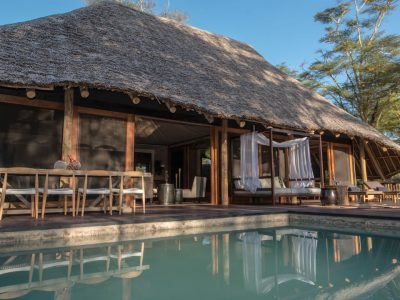 Tsavo West National Park, Coast Province, Kenya
Finch Hattons is a beautiful place: a 35-acre concession in the south-western corner of Tsavo West, surrounded by 9,000 km2 of infinite African wilderness,
Unfortunately no tours were found.
Tsavo West National Park is a breathtaking wilderness area located in the Kenyan coast province and the second largest national park in the country. The park, which was established in 1948 and spans 9,065 square kilometres, is administered by the Kenya Wildlife Service. The park is home to a wide variety of animals, including the Big Five, and is renowned for its population of approximately 14,000 elephants.
In addition to its abundant fauna, Tsavo West offers rock climbing and historical monuments going back to the Stone Age. Volcanic activity inside the park has produced huge lava flows, craters, and hills, including the Kisula Caves complex, one of which is thought to be the second-biggest lava cave in the world.
Mzima Springs, where visitors may see hippos from an underwater observation room, is one of the park's attractions. Tsavo West also has sights like recent lava flows and the Ngulia Rhino Sanctuary, where tourists have the opportunity to observe endangered black rhinos. The park is a birdwatcher's delight, with several dry-country specialities and a wide diversity of bird species, including the endangered corncrake and the near-threatened Basra Reed Warbler.
The harsh nature of Tsavo West National Park provides tourists with a true African safari experience. The environment of the savannah consists of open grasslands, scrublands, Acacia woodlands, riverine vegetation, and rocky ridges. Elephants wander the grasslands below the cliffs, while eagles, vultures, and falcons soar above the cliffs on thermals. Kilimanjaro may also be viewed on days with good visibility.
Tsavo West National Park is a must-visit site for anyone seeking a true African safari. With its diverse animals, breathtaking landscape, historical monuments, and rock climbing chances, this rough wilderness is sure to provide tourists with an amazing experience.
Wildlife of Tsavo West National Park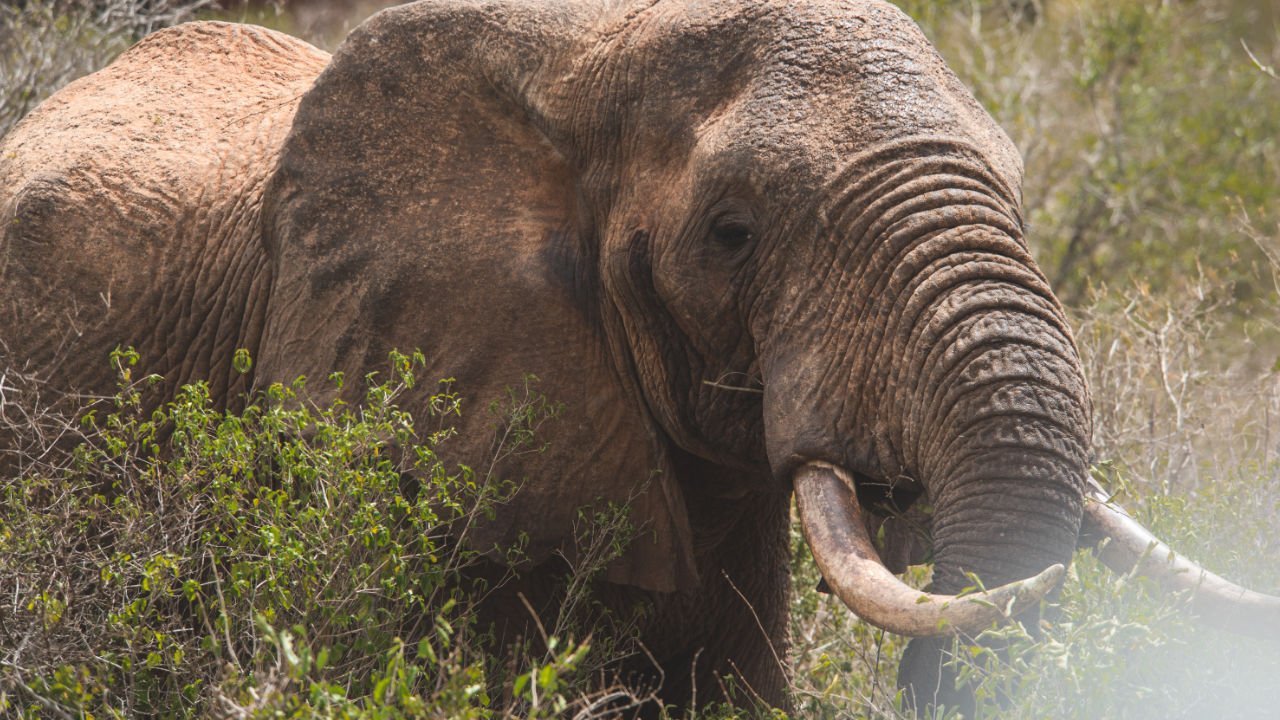 This Park is where wildlife enthusiasts and nature lovers come to experience the raw beauty of Africa's wilderness. Despite not having the highest densities of wildlife, Tsavo West is a treasure trove of fascinating creatures that never fails to amaze visitors.
As you venture into the park, you'll quickly realize that elephants are abundant and a common sight. These majestic beasts often appear eerie, covered in the red dust that makes them stand out from their surroundings. You'll also have a chance to spot the park's iconic maneless lions, known for their distinct appearance.
One of the highlights of Tsavo West is the opportunity to see big herds of buffalo roaming free in their natural habitat. These massive animals move together in a synchronized motion, creating a mesmerizing sight that is a must-see for any wildlife enthusiast.
Black rhinos have made a comeback in Tsavo since the 1980s when they were nearly extinct in the area. Thanks to conservation efforts, their population has been steadily increasing, and the drive-through rhino sanctuary increases your chances of spotting these elusive creatures.
But the park isn't just about the big game. There are also plenty of smaller animals that make Tsavo West their home. Keep your eyes peeled for the skittish lesser kudu, a species that is best seen here. The rocky terrain is also an ideal habitat for the klipspringer, a nimble antelope often found in pairs.
For those interested in antelope that thrive in arid conditions, the park is home to the rare fringe-eared oryx and the gerenuk. These animals have adapted to the harsh environment, making them an interesting sight to see.
And of course, no trip to Tsavo West National Park would be complete without catching a glimpse of the majestic Masai giraffe. These beautiful creatures tower above the trees, gracefully moving their long necks as they browse the foliage.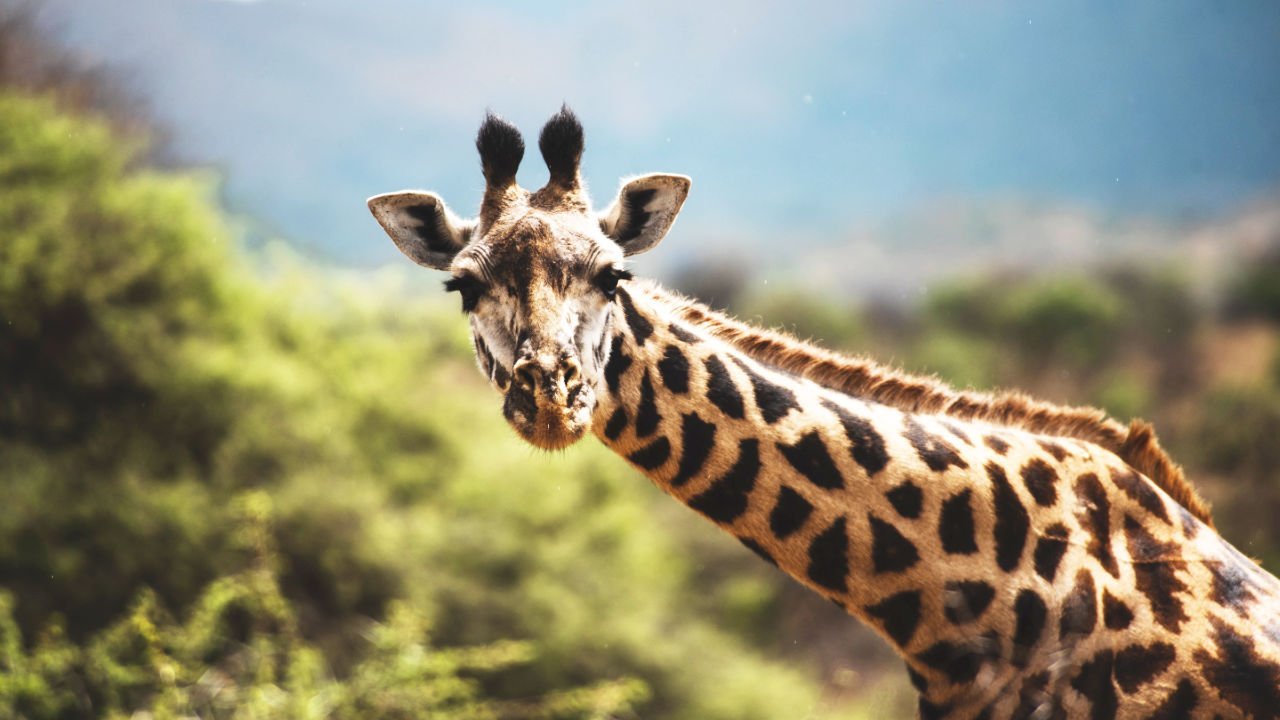 Birds and Bird Watching
Tsavo West National Park is a birder's dream, with 509 bird species documented. Ngulia Hills, one of the park's most famous sights, is located on a major bird migration path. From October through January, this location hosts the most significant bird-ringing effort in all of Africa. The marsh warbler, river warbler, red-backed shrike, thrush nightingale, and common whitethroat are just some of the dozens of resident and migratory bird species that have been ringed here.
The Eastern black-headed oriole, golden palm weaver, pied kingfisher, Verreaux's eagle owl, and vulturine guineafowl are just a few of the famous birds that can be seen in Tsavo West. All birdwatchers should have little trouble seeing these species in the park.
However, avid birders are in for a treat, as Tsavo West is home to some of the rarest and most sought-after birds in the world. Species such as the African finfoot, Basra reed warbler, black-faced sandgrouse, common whitethroat, corncrake, Fischer's starling, golden pipit, golden-breasted starling, lesser kestrel, marsh warbler, martial eagle, Narina trogon, Northern brownbul, Pangani longclaw, red-backed shrike, red-bellied parrot, river warbler, rufous chatterer, Shelley's starling, slender-tailed nightjar, Somali bee-eater, Somali bunting, Somali ostrich, Taita falcon, Taita fiscal, and thrush nightingale can all be found here.
Tsavo West is a great place to go birding at any time of year since many of the species are permanent residents. But October and November are the prime migration months, when the woods, streams, and skies are all teeming with migrating birds. November and April are the wettest months of the year, so birdwatchers should plan accordingly.
Tsavo West National Park is an excellent place for birdwatchers of all skill levels. It will be a once-in-a-lifetime adventure due to the abundance of rare and beautiful birds and the breathtaking surroundings. So take your field guide and binoculars and travel to Tsavo West for a once-in-a-lifetime experience of birding.
Local Communities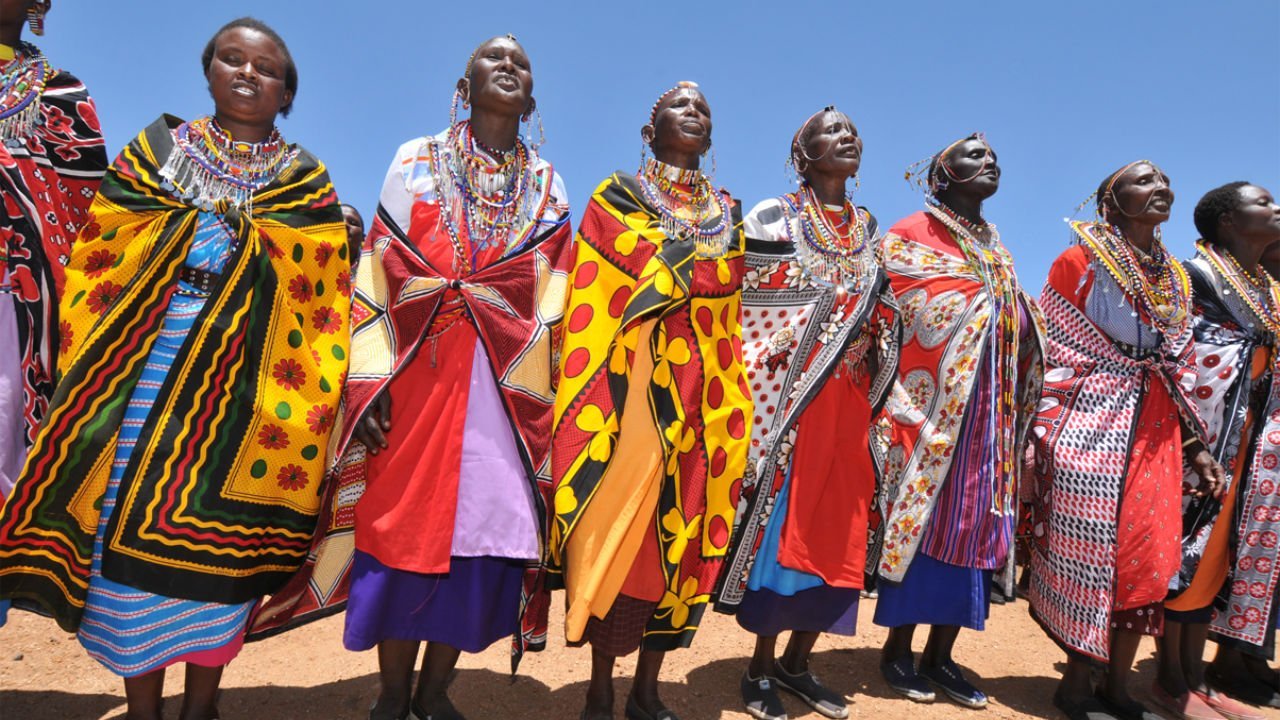 Tsavo West National Park is a remarkable conservation success story, with wildlife poaching and other human activities having a lesser impact on the park compared to the past. However, the influence of the neighbouring communities is gradually becoming a concern. Livestock incursions, frequent fires, and road kill from speeding traffic on the Nairobi-Mombasa highway all contribute to the displacement and loss of wildlife.
One area of particular concern is the Chyulu Hills, where agricultural settlers were displaced to create the National Park. The evicted settlers still harbour resentment towards the park and have been engaging in forest burning and cutting, which can be detrimental to the park. Maasai pastoralists also frequently burn the grassland, which provides access to the forests. However, the 500 km2 of Lumo Community Wildlife Sanctuary, which is an association of the Lualenyi, Mramba, and Ossa ranches, has been a successful community conservation initiative. Lumo shares an open boundary with the Taita Hills Sanctuary, and visitors can do game drives in both areas, providing ample opportunities to view wildlife, including elephants, buffalo, giraffes, and several species of antelope and gazelle.
Activities and Attractions in Tsavo West National Park
Several exciting tourist pursuits and sights may be found in Tsavo West National Park. The park offers the following activities:-
Game drives: When it comes to game drives, Tsavo West is hard to beat. The park is home to many mammals and bird species, as well as large mammals including elephants, lions, giraffes, zebras, and more. The ideal times to go on a game drive are first thing in the morning or just before sunset when the animals tend to be most active.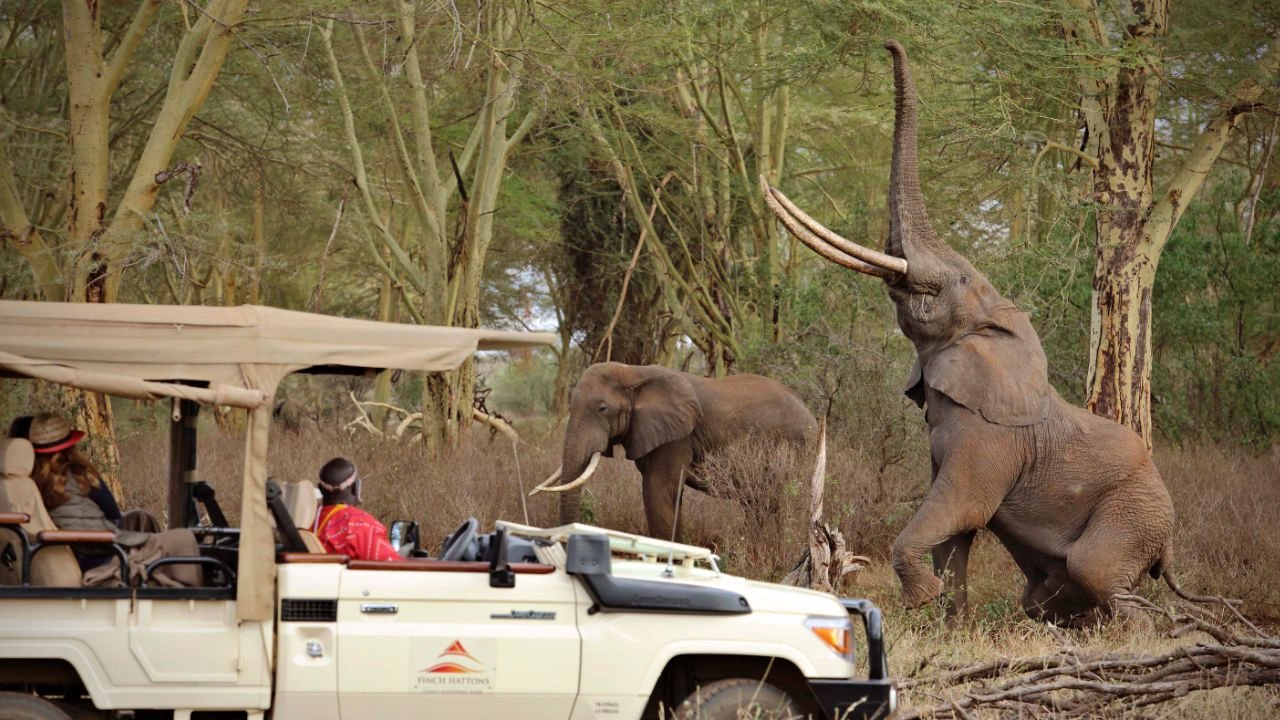 Bird watching: The West of Tsavo National Park is a birdwatcher's dream, home to more than 509 different bird species. A full list can be found at Avibase – Bird Checklists of the World Tsavo west National Park.  Several different kinds of birds may be found in the park because of the range of habitats available, including savannah, woodland, and wetland areas.
Rock climbing: At Tsavo West, rock climbers will discover several options for climbing. The park's sturdy gneiss cliffs are frequently adorned with grips and devoid of vegetation, making it one of the greatest locations in Kenya for rock climbing. The most remarkable rock formation is the 300-meter-tall east wall of Kichwa Tembo, which drew the early explorers and prompted the ascent of the Great Tsavo Chimney. Climbers are required to get permission from the Mountain Club of Kenya and protect the park's conservation initiatives.
Nature walks: Visitors may get to know the park and its plant and animal inhabitants better on foot with a guide by going on a guided walk along the Tsavo river. Guests may feel at ease while strolling through the park's many mapped walking paths.
Visit to Mzima Springs: We recommend a trip to Mzima Springs, a natural sanctuary in the park with water so clean it must have come from far down. Visitors may see the resident hippos and crocodiles on a guided tour of the springs.
Visit to Shetani Lava Flow: A trip to the park's spectacular Shetani Lava Flow, where kilometres of black, hardened lava flows may be seen, is highly recommended. Geological information about the park and its formations are presented on guided tours available to the public.
Camping:  Tsavo West National Park is a great place to spend a night under the stars if you're interested in camping. Camping gear may be rented or brought by guests.
Lodges and camps:  There are a number of resorts and campgrounds inside the park that provide guests with pleasant overnight stays. You may stay at the likes of the Kilaguni Serena Safari Resort, the Ngulia Safari Lodge, or the Finch Hattons Luxury Tent Camp, all of which are highly regarded by visitors.
Weather and Climate
Visitors looking for adventure in a hot, arid atmosphere will find a special experience at Tsavo West National Park. High temperatures and little rain are the defining characteristics of the park's weather and environment, resulting in distinctive terrain that is perfect for animal observation.
The dry season, from June to September, is the ideal time to explore Tsavo West National Park. The perfect circumstances for open-top game drives are present throughout these months because of the colder temperatures and little to no rainfall. While going on a game drive at night or in the early morning, visitors are encouraged to pack warm clothing.
The typical afternoon high in June and July is 25°C (77 °F), while the coolest nighttime temperatures are approximately 15°C (59 °F). The average daily temperature in August and September is 26°C (79  °F) as temperatures gradually rise.
The "short rains" and the "long rains" are two rainy periods that occur throughout the wet season, which lasts from October to May. While January and February are the warmest months of the year with average afternoon temperatures of 32°C (90 °F), October, November, and December have afternoon storms with peak rainfall in November. Long rains last from March through May, with short afternoon showers being the usual. The worst month for driving conditions in April.
The park is open all year round; however, visitors are recommended to stay away from the months with the most rainfall, which are November, April, and May, as the park's species tend to disperse during those months owing to the availability of water. Yet, because there are so many migrating birds in the park during the wet season, it's a terrific time to go bird-watching.
Best time to visit Tsavo West National Park
Tsavo West National Park is a fantastic destination, and you may be asking when is the ideal time to visit. Although the park is open all year, the seasons have a significant impact on the weather and wildlife activities. The ideal seasons for visiting Tsavo West National Park are broken down as follows:
Dry Season: June to October
The dry season is the ideal time to visit the park if you want to view the animals. Animals prefer to gather around water sources at this time, making it easier to notice them. Also, there is hardly any rain, and the weather is bright and dry, which is ideal for a safari. There is less malaria during the dry season, making it a safer time to explore the park. Nonetheless, be ready for cloudy skies and extremely dry, dusty days.
Wet Season: November through May
The wet season could be the best time to visit if you want to enjoy the park's beautiful surroundings and save money. The park is lovely and lush during this time, with plenty of water sources for the animals. Due to the presence of migratory birds, this is also the ideal time of year for birding. However, the majority of park activities may be hindered during the peak rainy months (particularly April), and April and May's poor driving conditions may result from the heavy rains.
Ultimately, your goals for your trip will determine the ideal time to visit Tsavo West National Park. Plan your trip during the dry season, which lasts from June to October, if you want to see animals and enjoy dry, sunny weather. Plan your vacation during the wet season, which runs from November to May, if you want to take in the park's beautiful landscape and save money.
How to get to Tsavo west National Park
Via car: From Nairobi, Mombasa, or another neighbouring park, you may drive to Tsavo West National Park. The distances between Nairobi and Mombasa are 232 and 250 kilometres, respectively. The approximate travel time is eight hours.
You may enter the park by the Mtito Andei gate, the park's main entrance, if you are travelling from Mombasa, or you may use the nearby Tsavo Gate at Manyani. You will enter Tsavo West National Park through the Chyulu gate if your Kenya safari includes or begins at Amboseli National Park. Travelers can alternatively use the Taveta-Voi road, where they can access the park by the Maktau, Jipe, or Ziwani gates.
By scheduled flight: From Nairobi, there are scheduled flights to Tsavo West National Park and other parks, including Masai Mara and Amboseli. Several airlines provide booking options for these flights. Landing at any of the park's airstrips, including Tsavo gate airstrip,  Kamboyo airstrip,  Ziwani airstrip, Jipe airstrip, Finch Hottons airstrip, Kilaguni airstrip, and Maktau airfield, is also an option for those travelling by air.
Via chartered flight: Tour operators may organise chartered flights to Tsavo West National Park, and there are various airstrips accessible for these flights.
Tsavo West National Park is reachable via Jomo Kenyatta International Airport (NBO), which is situated 15 kilometres (9 miles) southeast of Nairobi. From the airport, one may either drive or take a scheduled aircraft to the park.
Another way to reach Tsavo West National Park is via Moi International Airport (MBA), which is located in Mombasa. One may drive to the park from the airport or take a scheduled aircraft because it is only 9 km (6 mi) west of the city.
Airlines to book domestic flights with Safarilink and Mombasa Air Safari are two airlines that offer domestic flights from Nairobi to Tsavo West National Park. The Wilson Airport (WIL), which is 6 km (about 4 mi) south of Nairobi, is where these flights leave.
Accommodation Options In Tsavo West National Park
Guests can choose from moderate lodges, high-end safari lodges, and opulent tents when staying in Tsavo West National Park. Some of the more prominent ones are briefly described here.
At the Kilaguni Serena Safari Lodge, you may stay in style while taking in the sights of the park's animals and rolling hills. It is situated in the centre of the park and offers fantastic game viewing from all angles. Ground squirrels, hyraxes, warthogs, mongooses, and other animals and birds are nearly always present at the resort and its waterhole.  Large rooms with private bathrooms, a pool, a spa, and a restaurant offering both local and foreign fare are just some of the amenities guests may enjoy at this resort.
This mid-range resort, Ngulia Safari Lodge, is situated on the edge of Ngulia Hills, providing guests with stunning views of the park and its inhabitants. The lodge has a pool, a restaurant, and a bar, and each room has its own private bathroom.
The Finch Hattons Luxury Tented Camp provides visitors with a private and isolated safari experience within the park's borders. The camp has plush tents with private toilets, a spa, a pool, and a fine dining restaurant.

Finch Hattons Luxury Tented Camp | Tented suite

Inside the park, itself is the Severin Safari Camp, where visitors may stay in luxurious tents and enjoy a real safari adventure. The tents are spacious and each has its own private toilet; there is also a pool, a spa, and a restaurant serving both local and international fare.
Guests of the Voyager Ziwani Tented Camp may enjoy a genuine safari stay in a beautiful setting on the banks of the Sante River. There are large tents with attached restrooms, a swimming pool, and a restaurant that serves both local and international fare at this camp.
Rhino Valley Lodge is a peaceful hideaway in the park, situated on the banks of the Mbulia River. The resort has a swimming pool, a restaurant providing local and foreign cuisine, and cosy rooms with private bathrooms.
Salt Lick Lodge is a one-of-a-kind accommodation set in a secluded refuge close to the park, with rooms built on stilts to provide visitors with unobstructed views of the scenery and local wildlife. The resort has a swimming pool, a restaurant providing local and foreign cuisine, and cosy rooms with private bathrooms.
Sample 4-Day Safari in Tsavo West National Park, Kenya
If you're planning a solo trip to Tsavo West National Park, here's a suggested itinerary for your 4-day safari:
Day 1: Arrival at Tsavo West National Park
You will be picked up in Nairobi and driven to Tsavo West National Park, which is about a 6-hour drive. You will arrive in time for a short game drive if time allows. Check into your accommodation and spend the rest of the day at leisure, taking in the stunning scenery.
Day 2: Full-day game drive
Wake up early for a full-day game drive in the park. Tsavo West National Park is home to some of the African Big Five, including elephants, lions, leopards, buffaloes, and rhinos, this gives an opportunity for some of the best game viewing experiences in Kenya. The park also has a diverse range of bird species. You will have the opportunity to take in the breathtaking scenery and wildlife in the park. Return to your accommodation for relaxation and refreshments, and then head out for an evening game drive with sundowner drinks.
Day 3: Morning and evening game drives
Wake up early for a morning game drive, to see the animals as they start their day. This is the perfect time to catch the predators in action as they hunt for their prey. You will return to your accommodation for breakfast and relaxation before heading out for an evening game drive with sundowner drinks.
Day 4: Departure from Tsavo West National Park
After a lazy breakfast, you will check out of your accommodation and drive back to Nairobi for your outbound flight or overnight stay. This marks the end of your 4-day safari to Tsavo West National Park.
Whether you're a seasoned solo traveller or just starting out, a safari to Tsavo West National Park will be an unforgettable experience.
What is Tsavo West National Park known for?
The Chyulu Hills, volcanic highlands, and savannah plains are just a few of the breathtaking scenery in Tsavo West National Park. It is also well-known for having a variety of animals, including the well-known "red elephants," which get their name from the red soil of the park.
Which park is better, Tsavo East or West?
Tsavo East National Park and West National Parks both provide exceptional and unforgettable experiences. While Tsavo West is more picturesque, with more diverse scenery and better views of Mount Kilimanjaro, Tsavo East is bigger and more open, with a higher diversity of species. Your preferences and interests ultimately determine which park to visit.
Why is Tsavo West National Park famous?
The volcanic highlands, Mzima Springs, and the Chyulu Hills are just a few of the breathtaking scenery in the Tsavo West National Park that is well known. Also, it is renowned for the variety of animals it supports, including "red elephants," leopards, giraffes, buffaloes, and other bird species.
It rose to fame in the early 20th century because of the "Man-eaters of Tsavo," a pair of maneless male lions that killed a number of railway employees when the Kenya-Uganda railway was being built.
How much is the Tsavo West National Park entrance fee?
As of 2022, visitors must pay an admission charge of 515 Kenyan shillings (about $4) for adults and 215 Kenyan shillings (about 1.7 USD) for minors to enter Tsavo West National Park.
Adults pay USD 52, while children pay USD 35 for non-citizens.
Children are people aged 3 to 18 years old.
For camping, guided tours, and other park activities, additional costs can be necessary.
