5 Day Uganda Wildlife Safari
5 Day Uganda Wildlife Safari Extravaganza: A journey of Discovery
Unearth the wonders of the "Pearl of Africa" with a captivating 5 Day Uganda Wildlife safari. Traverse the vast landscapes of Murchison Falls National Park, teeming with over 451 bird species and 76 mammal species, as the majestic Victoria Nile meanders through.
The journey doesn't stop there. The Queen Elizabeth National Park awaits with its rich tapestry of savanna, abundant wildlife including tree-climbing lions, and the serene Kazinga channel. Each day is an exploration – from early morning game drives, therapeutic hot springs at Semuliki, to rhino tracking at Ziwa sanctuary.
Embark on this safari to experience the true essence of Ugandan wilderness. Welcome to a timeless adventure in Uganda.
____________________
Day 1 – 5 Day Uganda Wildlife Safari: Journey to Queen Elizabeth National Park and Exploration of Lake Mburo
Set out from the hustle and bustle of Kampala or your preferred location, and embark on an 8 hour journey into the heart of Uganda's natural beauty. As you depart, our seasoned Blue Adventure Safari driver/guide will be on hand to give you a comprehensive briefing about the exciting day that lies ahead. Our route is meticulously planned to ensure you get a taste of Uganda's rich tapestry of landscapes and culture.
One of our first stops will be the famed Crocodile Camp. Here, get an opportunity to marvel at these ancient reptiles and learn about their habits and habitats in the wild. As we proceed, pause at the Equator for a memorable photo-op. This geographical landmark is not just a fantastic spot for photographs but also offers a tangible sense of being at the center of the world.
As the journey unfolds, brace yourself for a truly immersive game drive experience at Lake Mburo National Park. This park, smaller than some of its counterparts in Uganda, is a gem that's often referred to as the 'whispers of the wild'. As you traverse its terrains, keep your eyes peeled for the graceful elands – Africa's largest antelope. Their majestic horns and gentle demeanor are a sight to behold. The park's landscape is also dotted with giraffes, their long necks allowing them to graze on the treetops, offering perfect photo opportunities against the backdrop of the African sky. Buffalos, with their imposing presence, roam the park freely, often seen cooling off near water bodies.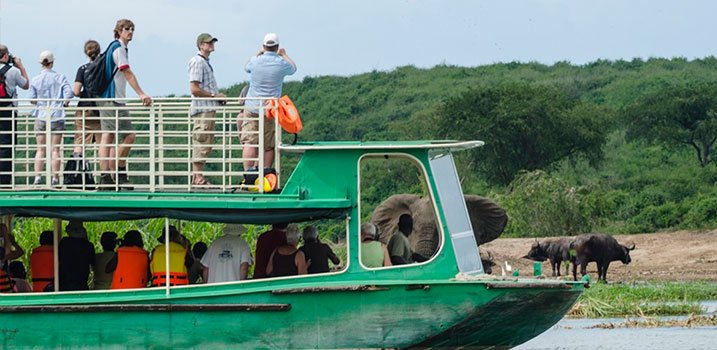 The game drive also promises encounters with the sturdy warthogs, easily recognizable with their tusks and distinct facial wattles. As you navigate through the bushy grasslands and the varied landscapes, you might also spot the elusive bushbucks and waterbucks. Their graceful gaits and vibrant eyes make for a captivating sight. Each sighting, each encounter, is a testament to the rich biodiversity of Lake Mburo National Park.
Post this wildlife extravaganza, delve into the region's cultural roots at the Igongo Cultural Centre. This center provides a deep dive into the history, traditions, and heritage of the local Banyankole tribe and other communities in the region.
As the sun begins its descent, painting the sky in hues of orange and red, head to the Kazinga Safari Lodge. Here, you can unwind and reminisce about the day's adventures, looking forward to what the next day has in store.
____________________
Day 2: Dive Deep into Queen Elizabeth National Park's Splendors
Greet the dawn and venture into the heart of the "medley of wonders" at Queen Elizabeth National Park. As the morning mist lifts, embark on a riveting game drive where the beauty of the African wild is unveiled. See the proud lions basking under the morning sun, graceful giraffes ambling by, robust kobs, mighty buffaloes, and many more denizens of this pristine wilderness. The park is also an ornithologist's paradise, boasting a staggering array of over 640 bird species, each adding a splash of color and melody to the landscape.
As the day advances, make your way to the park's remarkable crater lakes. The Katwe and Kasenyi salt works provide a unique insight into the traditional salt mining process, a practice that has stood the test of time. But perhaps the most enchanting of all is Lake Nyamunuka. Nestled within a crater, this saline lake is not only a vision of beauty but also a hub of activity. Its salt-rich waters attract buffaloes and various other animals, offering them essential minerals and making it a hotspot for wildlife viewing.
Post exploration, let the calming waters of the Kazinga Channel captivate you. This natural channel, a lifeline connecting Lake George and Lake Edward, is teeming with life. Set sail on a serene boat cruise and watch as hippos playfully cavort, a multitude of bird species flutter about, and other wildlife come down for a refreshing drink.
As the sun begins its descent, signaling an end to this action-packed day, take a 2 hour journey on to Fortportal. Here, under a canopy of stars and beside a roaring bonfire, indulge in a delightful dinner and let the memories of the day wash over you at Homebliss.
____________________
Day 3 – 5 Day Uganda Wildlife safari:  The Mystique of Sempaya Hot Springs in Semuliki National Park
Kickstart your day with a deep dive into the mysteries of Semuliki National Park as you explore the captivating Amabereganyina mwiru caves. These caves, revered and shrouded in enigma, set the tone for the adventures to follow.
Following your exploration of the caves, head over to the park headquarters for a comprehensive briefing. Here, the tales, cultural significance, and science behind the park's myriad attractions come alive, offering invaluable insights and preparing you for the mesmerizing sights ahead.
Your next stop is the verdant heart of the park: the famed Sempaya hot springs. Distinctively demarcated into male and female sections, these geothermal marvels are steeped in local legends, adding depth to their natural allure. As you tread along the serene boardwalk, the springs reveal themselves in full splendor. Indulge in a unique experience here, boiling eggs amidst the bubbling waters, guided by the expertise of local custodians.
Concluding this immersive day, embark on a scenic drive to Hoima. Here, the comforts and luxury of the Kontiki Hotel beckon, offering a tranquil haven where you can reflect on the day's discoveries and rejuvenate for the adventures that lie ahead.
____________________
Day 4: Murchison Falls – Nature's Marvel
Set out for Murchison Falls after a hearty breakfast. Once inside the park, a thrilling drive awaits, promising sightings of warthogs, baboons, and more. The main attraction, however, is the awe-inspiring Murchison Falls – witness the powerful Nile squeeze through an 8-meter gorge, a spectacle of nature's raw power. Post a photo session, relish a local lunch before setting sail on an afternoon boat cruise. The Nile's banks play host to crocodiles, hippos, elephants, and a plethora of bird species. As the day winds down, relax and reflect on the day's adventures at the Gipir and Labongo Safari Lodge.
Murchison Falls National Park: Uganda's Mesmerizing Wilderness Tapestry
Set in the heart of the Albertine Rift Valley, Murchison Falls National Park, previously christened Kabalega National Park, spans as Uganda's most expansive sanctuary. But size isn't its only claim to fame; the park houses the eponymous Murchison Falls, where the mighty River Nile, Africa's longest river, performs a dramatic ballet, squeezing through a narrow chasm and plummeting 43 meters into the depths below. This awe-striking cascade, whilst being the most illustrious, is but one of many; the covert Karuma Falls stands sentinel on the Gulu highway, and myriad others embellish the park's verdant interior.
But the park's allure doesn't end at cascades. Traverse its vast expanse, and one encounters a biosphere replete with fauna: majestic lions prowling the savannas, elusive leopards stalking their prey, and stately elephants and giraffes traversing the grasslands. Avid birdwatchers find solace here too, with rarities like the shoebill stork gracing the skies.
Incepted in 1952 by British custodians, this reserve stretches across approximately 3,840 square kilometers. Its staggering landscapes – an intricate mosaic of savannas, forests, and grasslands – are complemented by its adjoining conservatories, Karuma and Bugungu Wildlife Reserves.
Operated under the aegis of the Uganda Wildlife Authority, Murchison Falls National Park epitomizes both conservation dedication and unparalleled safari allure, positioning it as an indispensable gem in Uganda's diadem of natural wonders.
____________________
Day 5: The Grand Finale – Game Drive and Rhino Tracking
Begin the day early, with a packed breakfast in tow. As you venture out on your morning game drive, keep an eye out for the park's vast array of wildlife, from majestic lions to elegant giraffes. The highlight of the morning is our signature bush breakfast, scheduled at 9:40 am.
The latter part of the day takes you to Ziwa Rhino Sanctuary, a haven for these magnificent creatures.
Discover Ziwa Rhino Sanctuary: Uganda's Conservation Jewel
Nestled across a vast 70 square kilometres, the Ziwa Rhino Sanctuary is a product of visionary collaboration between the Uganda Wildlife Authority, Rhino Fund Uganda, and Ziwa Ranchers Limited. Founded with the noble aim of reintroducing and safeguarding the white rhinos after their devastating extinction in the 1980s, Ziwa now stands as a beacon of conservation success.
At Ziwa, experience safaris like never before. Engage in guided treks that promise up-close encounters with these awe-inspiring creatures amidst the sanctuary's picturesque grasslands. Beyond rhinos, delight in Ziwa's biodiversity, home to over 300 bird species and diverse wildlife, from playful monkeys to the stately Uganda Kobs.
Pioneering in conservation, Ziwa's thriving breeding program symbolizes hope, with the sanctuary's rhino population steadily on the rise. Every new birth here isn't just a statistic but a celebration of life and a step closer to reintroducing these magnificent beasts into their natural habitats.
Ziwa's heartbeat is its community. The sanctuary deeply involves local residents in its conservation journey, weaving a fabric of shared pride, knowledge, and commitment.
Located a mere 176 km from Kampala, Ziwa is perfect for both day trips and extended stays. To witness the sanctuary in its full vibrancy, consider visiting during the cooler mornings or late afternoons.
Post a successful tracking experience, commence your journey back, marking the end of an unforgettable 5-day Ugandan safari, with the choice of heading to Entebbe for your flight or an overnight stay.
