15 Day Uganda Safari | Gorilla Trekking & Wildlife Adventure
15 Day Uganda Safari – Eagle eye
Embark on a captivating 15 day journey through Uganda, the Pearl of Africa. From the exhilarating adrenaline hub of Jinja to the serene wilderness of Bwindi Impenetrable National Park, this safari weaves together Uganda's most treasured destinations. Experience the roaring rapids of the Nile, trace the footsteps of mountain gorillas, and immerse in the rich tapestry of local cultures, such as the Karamojong people. As the diverse terrains unfold, delight in the aroma of fresh Ugandan coffee, the harmonies of native birds, and stories of the ancient Batwa community. This is more than just a safari; it's a soul-stirring journey through the heart of Uganda.
Safari Highlights of 15 Day Uganda Safari
Boat cruise
Game drives
Mountain Gorilla tracking
Zip lining
White water rafting on the Nile River
Chimpanzees tracking
Encounter with the Batwa
Cultural tourism in Karamoja
Abseiling
Blue Adventure bush breakfast.
Road sights and view points.
Day 1 – 15 Day Uganda Safari: Adrenaline-filled Adventures in Jinja
Your journey begins with an early morning rendezvous with your Blue Adventure safari driver guide. Setting off from Kampala, you embark on a scenic drive to Jinja, renowned as the "adrenaline hub and capital of East Africa." The day promises exhilarating escapades, with white water rafting at Itanda falls standing out as the highlight. Experience the rush of adrenaline as the waters toss you about, all under the expert guidance of seasoned professionals. The adventure doesn't end here; choose from quad biking, Mabira forest zip-lining, or a serene visit to the source of the mighty River Nile. As the sun sets, retire to your lodge, rejuvenating for the days to come.
Day 2 – 15 Day Uganda Safari: Sipi's Romantic Cascades and Cultural Treasures
A beautiful morning awaits as you head east to the picturesque Sipi falls. Set against Mount Elgon's slopes near Mbale, Sipi Falls unveils a trio of cascading waterfalls, each echoing the ancient tales of the once-mighty mountain and its vast caldera. This region is a trekker's paradise, offering diverse trails that lead adventurers through mesmerizing vistas and past local plantations. Here, the scent of rich Arabica coffee wafts through the air, with opportunities to trace its journey from bean to brew.
For those seeking a rush, the 100-meter drop of Sipi Falls awaits, offering a thrilling abseiling experience. Beyond the falls, the Pian Upe Wildlife Reserve beckons, a hidden treasure teeming with wildlife, from graceful giraffes to swift cheetahs. Sipi Falls is not just a scenic spot but an encapsulation of Eastern Uganda's rich tapestry of nature, culture, and adventure.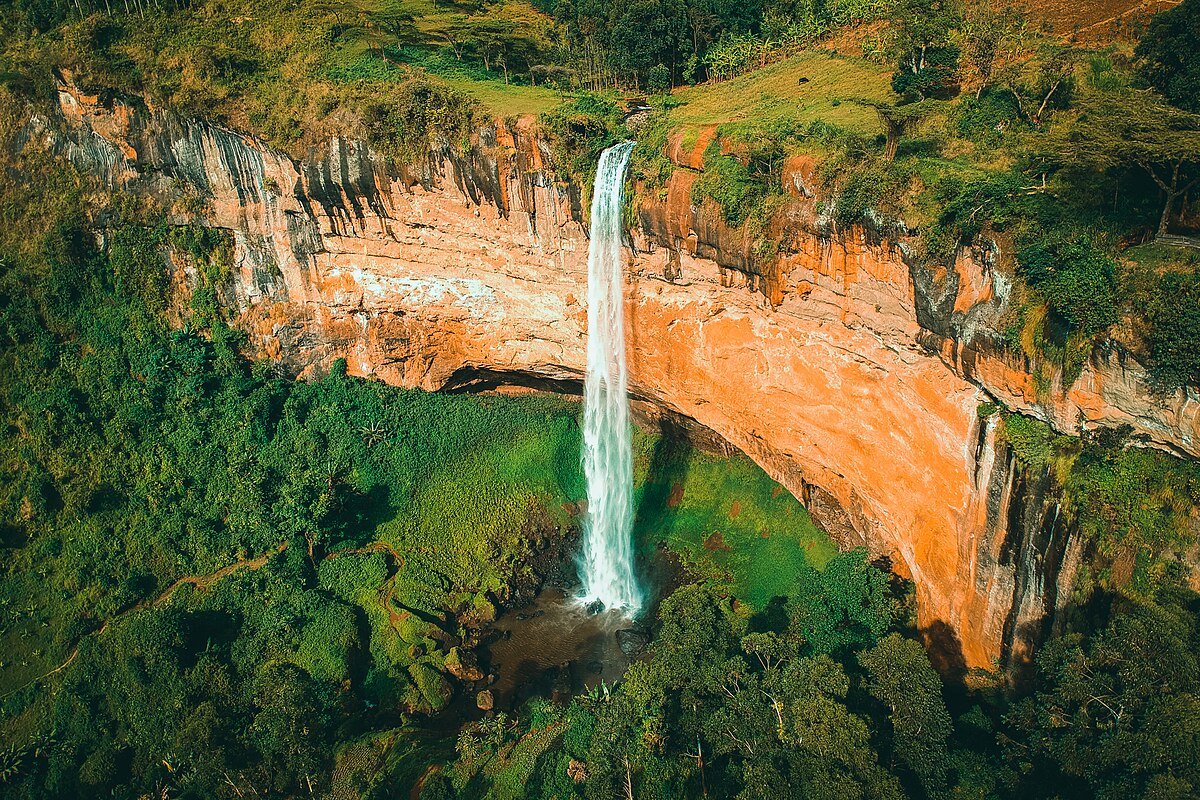 Day 3 – 15 Day Uganda Safari: Into the Wilderness of Kidepo Valley National Park
Today, your destination is the stunning Kidepo Valley National Park, taking you through the rich terrains of Pian-Upe wildlife reserve and the rustic charm of Moroto. On arrival, feel the weight of the world lift as you check into your lodge, nestled amidst the wilderness, setting the stage for the adventures ahead.
Kidepo Valley National Park, located in the remote northeastern corner of Uganda, is a pristine wilderness that remains relatively untouched and unexplored. Covering approximately 1,442 square kilometres, the park offers a captivating blend of savannah landscapes and rugged mountain terrain, creating a unique haven for diverse wildlife.
One of the park's standout features is its rich biodiversity. Despite its isolation, Kidepo boasts a remarkable array of animal species, some of which are found nowhere else in Uganda. Visitors can expect to see a plethora of wildlife, including lions, cheetahs, leopards, elephants, giraffes, and various antelope species. The park is also home to over 475 bird species, making it a paradise for birdwatchers.
Another distinguishing aspect of Kidepo is its rich cultural tapestry. The indigenous Karamojong and Ik communities reside in the vicinity of the park. Their unique way of life, deeply rooted in pastoralist traditions, adds a cultural dimension to the wildlife experience.
Day 4 – 15 Day Uganda Safari: Wildlife Wonders and Cultural Chronicles
The dawn chorus heralds a day of wildlife exploration. Embark on a game drive, with the majestic lions and towering elephants as the star attractions. Post the morning sojourn, indulge in the signature Blue Adventure bush breakfast. The day's narrative continues with an intimate rendezvous with the Karamojong community. Revel in their traditional dances, music, and crafts, capturing the essence of Uganda's rich cultural tapestry.
Day 5 – 15 Day Uganda Safari: The Majestic Murchison falls National Park Awaits
Post breakfast, embark on a scenic drive towards Murchison Falls National Park, a gem in Uganda's crown. This extensive journey offers picturesque vistas, dotted with quaint homesteads and bustling towns. A brief stopover in Gulu city ensures you're refueled and ready for the next chapter of your adventure. As you enter the park, prepare to be awed. Whether it's the thunderous Murchison Falls, the dense woodlands in the south, or the grassy plains in the north, the park promises unmatched natural beauty. Here, the River Nile plays host to a plethora of wildlife, including hippos, crocodiles, and a diverse array of birds.
Located in northwestern Uganda, Murchison Falls National Park is the country's largest national park, covering over 3,840 square kilometres. Its highlight is the awe-inspiring Murchison Falls, where the Nile River cascades through a narrow gorge, dropping 43 metres into Lake Albert. This park offers a diverse landscape, from rolling savannahs ideal for game drives to forested areas rich in birdlife. Wildlife enthusiasts can spot elephants, giraffes, lions, and antelopes, while the Nile's waters are home to hippos and crocodiles.
Day 6: Murchison Magic and the Power of the Nile
The symphony of nature serves as your wake-up call. As dawn breaks, you're in for a game drive promising sightings of Africa's celebrated 'Big 5'. As you weave through Murchison's landscape, the stately elephants, elusive leopards, and the majestic lions come into view. After a riveting exploration, our signature bush breakfast awaits – a moment of serene reflection amidst the wild. The afternoon offers an enchanting boat ride along the Nile, culminating with the thunderous crescendo of Murchison Falls, where the river surges through a narrow gorge in a dramatic display of nature's might.
Day 7: From Murchison's Might to Kibale's Calm
A new dawn heralds a scenic drive from Murchison Falls to Kibale National Park. A stopover at the awe-inspiring top of the falls offers panoramic vistas. Your journey continues through the bustling Hoima city, pausing for a delightful lunch, then pressing on to Fort Portal, Uganda's 'Tourism City'. Nestled amidst verdant landscapes, Fort Portal radiates charm, accentuated by a visit to the regal King's Palace. As night falls, a restful sleep beckons in your chosen accommodation.
Day 8: Kibale's Chimpanzee tracking
Awaken with anticipation, for today, the enchanting chimpanzees of Kibale await. After a hearty breakfast, you're guided to the park headquarters for a briefing, ensuring your chimp-tracking adventure is both respectful and rewarding. The dense jungle may playfully hide our primate cousins, but the joy of finally spotting them, of locking eyes with a curious chimpanzee, is incomparable. This intimate wildlife experience concludes with an exploration of the vibrant Bigodi village. Engage with the locals, be enchanted by their music and dances, and immerse in authentic Ugandan hospitality.
Kibale National Park, positioned in western Uganda, is renowned as the "Primate Capital of the World." Encompassing an area of about 795 square kilometres, Kibale is predominantly a tropical rainforest, boasting one of the highest diversity and density of primates in Africa.
The park's star attraction is the chimpanzee, our closest living relative. With over 1,500 individuals residing here, Kibale offers the best chimpanzee tracking experiences in Uganda, if not the entire continent. Observing these intelligent creatures in their natural habitat, as they play, forage, and interact, is truly mesmerising.
Alongside chimpanzees, Kibale shelters 12 other primate species, including the rare L'Hoest's monkey, the black-and-white colobus, and the red-tailed monkey. But the park's biodiversity doesn't stop with primates; it's also home to a variety of birds, butterflies, and mammals, making it a hotspot for nature enthusiasts.
Day 9: Queen Elizabeth National Park – A Medley of Wonders
Your next destination, Queen Elizabeth National Park, promises a diverse ecosystem where savannah meets wetland, and forest meets lakes. An early morning game drive unveils the park's abundant wildlife, from prowling lions to grazing antelopes. As the day progresses, a boat cruise on the Kazinga Channel reveals its aquatic treasures – playful hippos and diverse birdlife that adorns the water's edge.
Queen Elizabeth National Park: Uganda's Diverse Ecosystem Showcase
Nestled in the western part of Uganda, Queen Elizabeth National Park is a testament to the country's diverse ecosystems. Covering an area of about 1,978 square kilometres, this park is a mosaic of savannahs, wetlands, and lowland forests, bordered by the majestic Rwenzori Mountains.
Renowned for its rich biodiversity, the park houses an impressive array of wildlife. Visitors can anticipate sightings of the "Big Four" – lions, leopards, elephants, and buffalos. Unique to the park is the tree-climbing lion, often spotted lounging on fig trees in the Ishasha sector.
The Kazinga Channel, a natural waterway connecting Lake Edward and Lake George, is a highlight of the park. A boat cruise on this channel offers unparalleled opportunities to spot hippos, crocodiles, and an array of bird species, making it a birder's paradise with over 600 species recorded.
Day 10: Bwindi – Realm of the Mountain Gorillas
After breakfast, embark on a final game drive in Queen Elizabeth National Park, journeying through the Ishasha sector, renowned for its tree-climbing lions. The day's voyage concludes at Bwindi Impenetrable National Park, home to the world's remaining mountain gorillas. As you nestle into your accommodation, the dense forests whisper tales of the adventures that await.
Bwindi Impenetrable National Park: Encounter the Gentle Giants of the Forest
Discover the heart of Uganda's wilderness at Bwindi Impenetrable National Park, a UNESCO World Heritage site and a realm of dense rainforests, mist-covered hills, and ancient biodiversity. As one of Africa's most ancient habitats, Bwindi presents a journey not just through space, but also through time.
The crowning jewel of Bwindi is its population of the endangered mountain gorillas. With over half of the world's remaining gorillas residing here, the park offers an unparalleled opportunity for intimate gorilla trekking experiences. Gaze into the eyes of these majestic creatures and experience a profound connection, a moment where the wild meets the soul, and stories are shared without words.
Beyond gorillas, Bwindi teems with diverse wildlife, including rare forest elephants, 120 species of mammals, and an astounding 350 species of birds, making it a haven for nature lovers and birdwatchers alike.
But Bwindi is not just about wildlife. Engage with the indigenous Batwa community, the original forest dwellers, and immerse yourself in their rich traditions, dances, and tales of old.
Day 11: Unraveling the Mystery of Mountain Gorilla trekking
Begin your day with a nourishing packed breakfast before diving deep into the lush terrains of Bwindi. Your dedicated driver/guide will lead you to the park headquarters for an insightful briefing, preparing you for the once-in-a-lifetime experience of tracking mountain gorillas. Your quest could span anywhere from 2 to 5 hours, dependent on the gorilla family's movement. The exhilaration of your first encounter, the intimacy of the hour spent with these magnificent creatures, is a memory to cherish forever. After this unique rendezvous, a certificate commemorating your tracking experience awaits. The afternoon holds another cultural gem: a visit to the Batwa communities, the indigenous inhabitants of the Bwindi forest.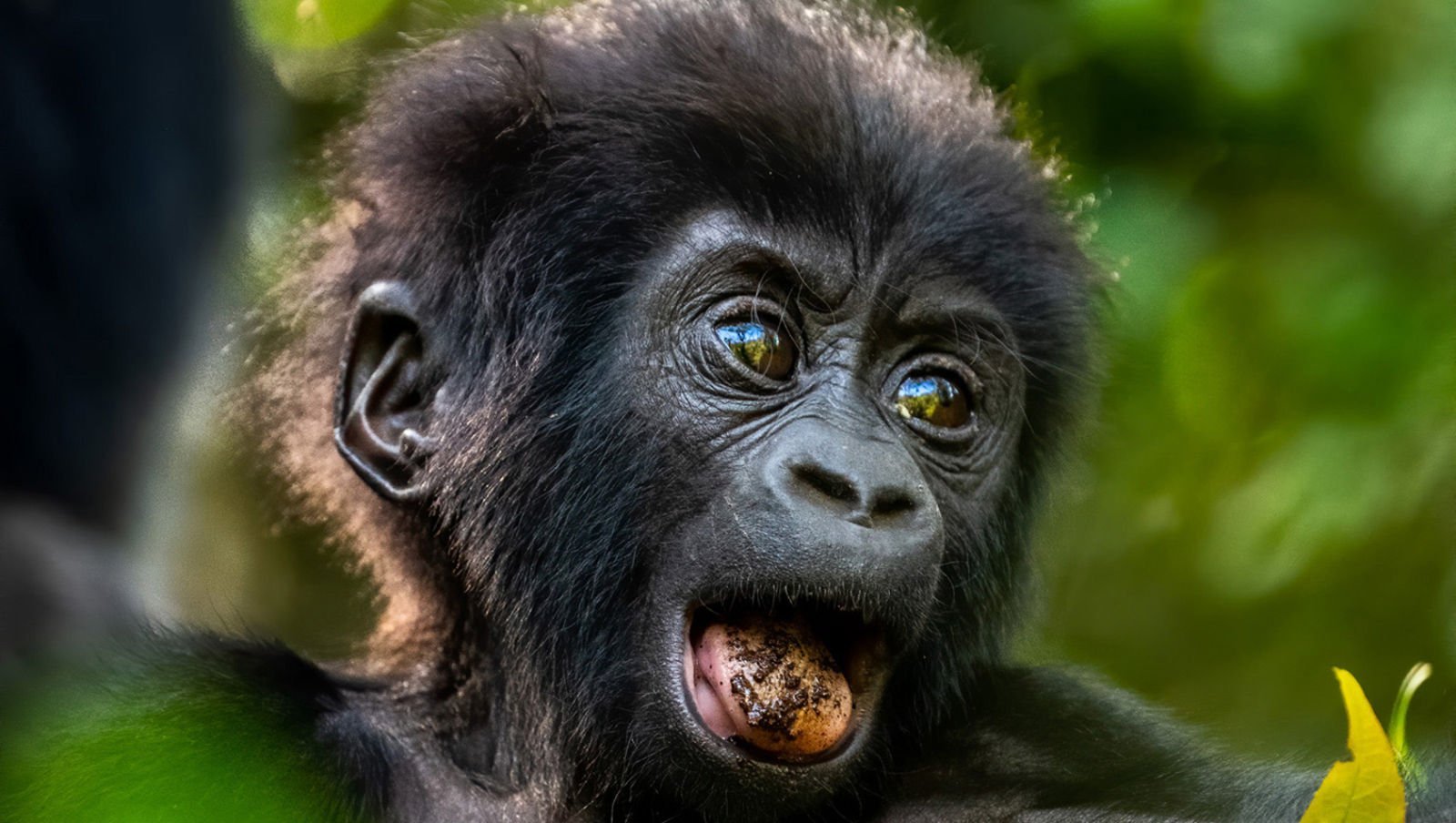 Day 12: Bwindi – A Forest of Choices
Today offers a luxurious pace. While some might opt for a second encounter with the gorillas, an equally tempting alternative invites you to explore Bwindi's diverse ecosystem. Traverse dense forest trails, witness cascading waterfalls, and marvel at the vibrant birdlife, lush orchids, and towering ferns. Your haven for the night remains the Buhoma Lodge.
Day 13: The Allure of Lake Mburo National Park
Post-breakfast, a scenic drive beckons you towards Lake Mburo National Park. A delightful stop at Mbarara's Igongo Country Hotel and Museum offers a tantalizing lunch break. As the day matures, Lake Mburo promises an evening game drive, setting the stage for another exciting wildlife extravaganza. As twilight blankets the park, retreat to your chosen lodge for a restful night.
Situated in the rolling hills of western Uganda, Lake Mburo National Park emerges as an oasis of serenity and natural splendour. Covering an area of 260 square kilometres, this park, though compact, boasts a unique tapestry of ecosystems, from shimmering lakes and wetlands to grassy savannahs and dense acacia woodlands.
Lake Mburo, the largest of the five lakes within the park's boundaries, plays host to a plethora of aquatic life. Here, guests can enjoy tranquil boat trips, offering close encounters with hippos, crocodiles, and an impressive array of birdlife, including the elusive African finfoot and vibrant malachite kingfishers.
On land, Lake Mburo sets itself apart with its distinctive fauna. It's one of the few Ugandan national parks where you can spot zebras and impalas. The rare eland, Africa's largest antelope, along with leopards, hyenas, and jackals, can also be seen prowling the park's landscapes.
Day 14: Elands, Zebras and Lakeside Wildlife Safari
Greet the morning with a game drive, with the park unveiling its unique residents, including the regal Eland. Lake Mburo's diverse inhabitants, from zebras to giraffes, promise numerous photographic moments. The day culminates with a serene boat ride on the lake. Allow the tranquility of Lake Mburo to prepare you for your journey onward, as you savor these last moments amidst Africa's wild beauty.
Day 15: Farewell to the Heart of Africa
As the African sun rises on the last day of your expedition, embark on your journey to the airport. En route, a special stop at the Equator point in Masaka allows for a commemorative photo session. With memories of pristine forests, roaring waterfalls, and the enigmatic wildlife of Uganda, proceed to your drop-off point, carrying forward stories waiting to be retold.
____________________
As we get ready to end our 15 Day Uganda Safari, we will remember many special moments. From the fast waters of Jinja to the deep forests of Bwindi, there are many things to think about. We will see many animals, including the Big 5, and learn about the people and old ways of the land. We will watch mountain gorillas, visit big parks like Murchison and Queen Elizabeth, and enjoy the quiet Lake Mburo. We will also spend time with the Batwa people and stop at the Equator. As we leave, we will remember that this was not just a trip to see animals, but also a chance to learn and grow. We will always love and remember Uganda and its beauty.
Tour includes
Ground transport
Park entrance
Boat trip
Bottled water in the safari vehicle.
Full board accommodation
Service of an English-speaking driver guide
All mentioned activities except for the optional ones
Tour excludes.
Extras at the accommodation i.e., drinks, telephone, laundry etc.
Tips to porters and driver/ guide
Insurance
