Uganda Safari
Uganda is a country full of breathtaking landscapes and diverse wildlife in its parks and reserves. It is home to iconic African animals like lions, leopards, elephants, and rhinos, as well as rare species like mountain gorillas.
Uganda also offers stunning views of the Albertine Rift Valley and a variety of national parks and game reserves that are perfect for safaris. The climate in Uganda is generally hot and humid with two rainy seasons: March to May and September to November. There are many tour operators who can arrange safari tours from day trips to extended packages that include game drives, birding tours, Gorilla trekking tours, camping in the bush. Whether you're looking for a classic big-game safari with luxury travel or one that focuses more on bird watching and photography, Uganda has something for everyone.
Uganda is a country located in East Africa and is known for its diverse array of wildlife and natural beauty. There are many different types of safaris that you can go on a Ugandan safari, including:
Wildlife safaris: Uganda is home to a variety of wildlife, including gorilla trekking safaris, chimpanzees, elephants, lions, and many more species. You can go on a safari to see these animals in their natural habitat and learn more about them.
Birdwatching safaris: Uganda is a paradise for birdwatchers, with over 1,000 species of birds found in the country. You can go on a safari specifically designed for birdwatching, to see a wide range of bird species in their natural habitat.
Cultural safaris: Uganda is a culturally rich country with a number of different ethnic groups and traditions. You can go on a safari to learn more about the culture of Uganda and visit traditional villages and markets.
Adventure safaris: Uganda offers a range of adventure activities, including white-water rafting, mountain biking, and hiking. You can go on a safari that combines wildlife viewing with adventure activities.
Beach safaris: Uganda has a number of beautiful beaches along the shores of Lake Victoria, the largest lake in Africa. You can go on a safari that includes a beach component, allowing you to relax and enjoy the beauty of the lake.
Primate safaris: These will take you to the major Primate parks for chimpanzee trekking, Gorilla trekking and Golden monkey trekking. Some will include Night primate walks for Norctanal Garagos and Bushbabies
Gorilla safaris: This is usually a 3 day safari that concentrates on only Mountain gorillas
Horseback safaris: These are offered in Lake Mburo National Park
Walking safaris: Walking safaris are a popular type of safari in Uganda that allow you to explore the country's wilderness and wildlife on foot. These safaris are typically guided by experienced guides who are knowledgeable about the local environment and can help you spot and identify different species of animals and plants. On a walking safari, you'll have the opportunity to get up close and personal with nature, and to see things that you might not be able to see from a vehicle. You'll also have the chance to learn more about the local ecosystem and the animals that live there, as well as the culture and history of the region. Walking safaris can be physically demanding, as they often involve hiking over rough terrain for extended periods of time. However, they can be a rewarding and exciting way to experience the beauty of Uganda's wilderness.
Wildlife safaris in Uganda
There are ten national parks in Uganda, including two world heritage sites Bwindi Impenetrable National Park and the Rwenzori Mountains National Park, the others are, the Kidepo Valley National Park, the Lake Mburo National Park, the Mgahinga Gorilla National Park, the Mount Elgon National Park, the Murchison Falls National Park, the Queen Elizabeth National Park, and the Semuliki National Park. Others are forest and wildlife reserves which in total make 28 protected areas in Uganda.
Game and bird viewing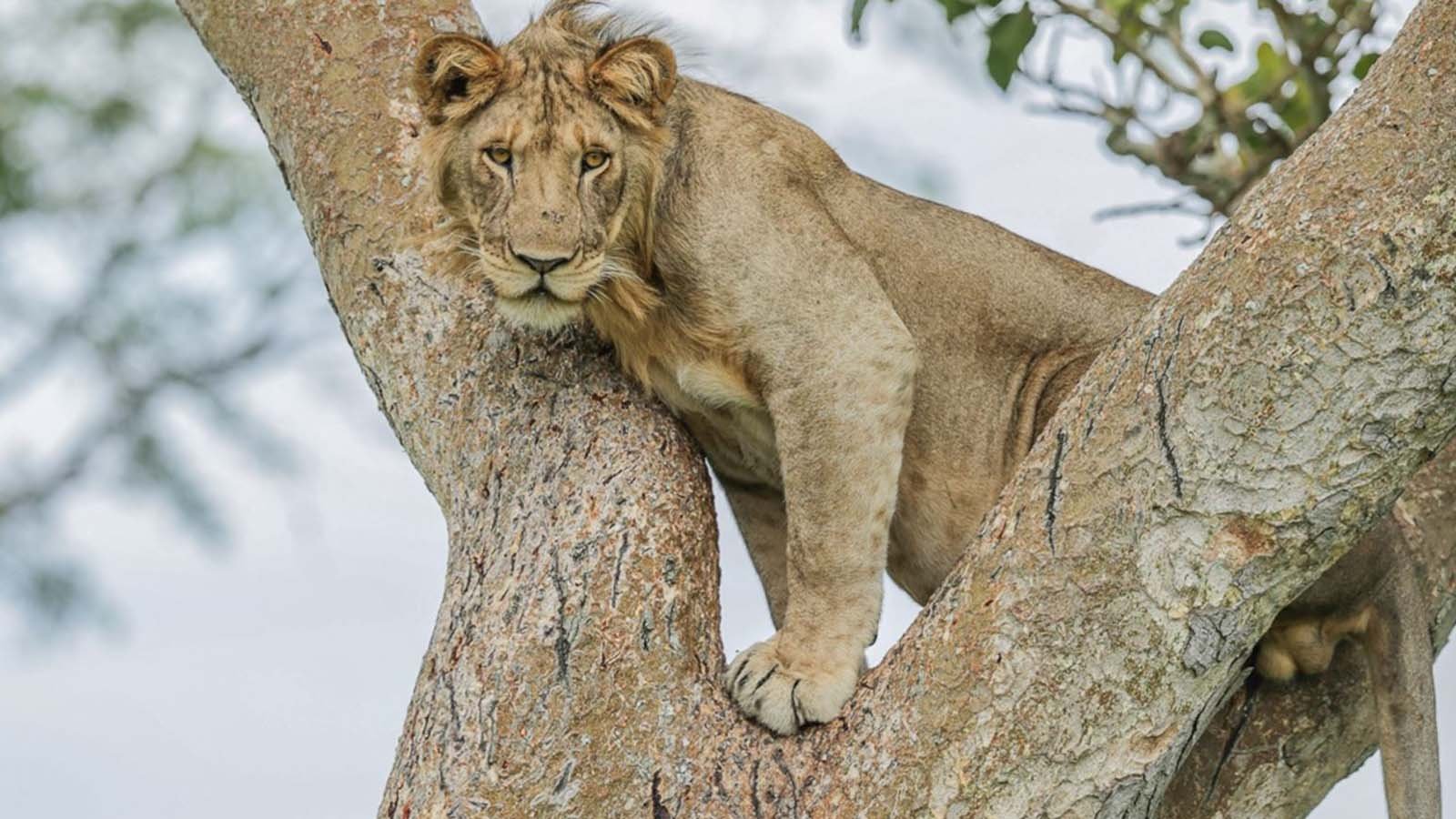 Game watching is the main tourism activity in Uganda. Within Uganda's ten national parks, lions, buffaloes, giraffes, antelopes, and elephants may be seen in large numbers. Queen Elizabeth National Park is home to lions that can scale trees. Except when pursued by another lion pack or a herd of wild buffalo, lions do not generally climb trees. The tree-climbing lions found in Queen Elizabeth National Park, on the other hand, purposefully climb trees and relax on them in the midday, when the sun is high. This is a one-of-a-kind occurrence. There have only been a few identical sightings of this in Tanzania's Lake Manyara National Park.
Murchison Falls National Park also boasts the greatest population of the endangered Nubian Giraffe and large herds of Uganda Kob, as well as a huge population of Jackson's hartebeest. Further to the northeast of the country is Kidpeo Valley National Park, which has the greatest herds of buffalo, with over 2000 reported, and they normally gather in the Narus valley, which always has water even during the driest season of the year.
Chimpanzee Tracking or Trekking in Uganda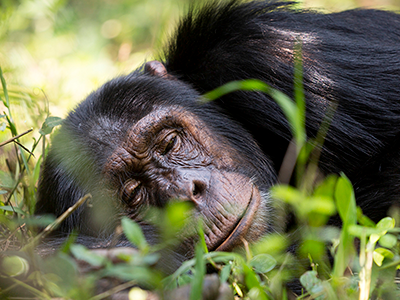 In Uganda, chimpanzee trekking is a popular tourist attraction. The two primary locations for chimpanzee trekking in Uganda are Kibale National Park and Kyambura Gorge in Queen Elizabeth National Park. Other locations are Budongo Forest and Karinzu Forest.
Each chimp trekking excursion starts with a briefing for all trekkers during which rangers describe the terrain's peculiarities as well as chimpanzee facts and what to expect. After receiving a briefing, visitors are led through the forest to search for chimpanzees. There is an 88% chance of finding chimpanzees.
Mountain Gorilla Trekking or Tracking
Gorilla Tourism commenced in April 1993 and since then Mountain Gorilla Parks are the most sought-after tourist destinations. Bwindi Impenetrable National Park, and Mgahinga gorilla National Park have half of the world's mountain gorilla population, therefore, gorilla trekking is recommended for the best Uganda safari packages. There are over 190 gorilla trekking permits available per day.
Gorilla trekking in Bwindi has a more challenging experience due to its terrain as compared to Rwanda, with steeper hills and more dense foliage, therefore, one needs to be physically fitter to traverse it. However, early reservations could provide possibilities for a simpler location.
Bwindi also offers Gorilla Habituation Experience, where you pay more but get to spend more time with the gorillas
The entire Mountain Gorilla tracking activity might take anywhere from 3 to 8 hours, depending on how far the gorillas walked the night before. The guides will check for excrement, tracks, and feeding trees as indicators. They can sometimes hear them before they see them! And after you've seen the gorillas, you'll get an hour with them to photograph and observe them as they play and groom each other.
For a better gorilla experience to protect both humans and gorillas, rules and regulations have been put in place and are explained by the Uganda Wildlife Authority guides before commencement of the exercise.
Water Sports and Boating Cruises
Uganda features a number of water bodies that are attractive tourist destinations due to its location in the African Great Lakes area. White water rafting and kayaking are popular sports on the Nile's rapids at Jinja. Boating on Lake Victoria, Lake Mburo, Lake Bunyonyi, the Kazinga Channel, and the River Nile is a great opportunity to see the buffaloes, hippos, crocodiles, and a large variety of bird species that live on the banks of these bodies of water. Another popular tourist activity is sportfishing. Nile perch and tilapia can be taken in approved sections of Lake Mburo and the Nile's banks. Canoeing is also available at Lake Bunyonyi.
Mountain Climbing and Hiking
Uganda offers several options for mountain climbing, trekking, and nature walks. The Rwenzori Mountains, which border the Democratic Republic of the Congo, feature the snowcapped Margherita Peak (5109 m), Africa's highest mountain range and one of the tallest summits. Mgahinga Gorilla National Park also has three peaks: Mount Gahinga, Mount Sabyinyo, and Mount Muhavura, the highest mountain in the park. Mount Elgon, located in Eastern Uganda, features one of the world's largest calderas and is suitable for trekking and climbing.
Religious Tourism
Uganda's rising wildlife-based tourist sector includes a gradually expanding product niche for religious tourism.
The most well-known religious destination for pilgrimage and martyrdom is Uganda Martyrs Catholic Shrine Namugongo, the site of 22 Catholic martyrs who died between 1885 and 1886. Anglican Martyrs Shrine Namugongo, Munyonyo Martyrs Shrine, St. Mary's Rubaga Cathedral, St. Paul Namirembe Cathedral, Kibuli Mosque, Old Kampala National Mosque, Kigungu Landing Site, Baha'i Temple, Bishop Hannington Site, and Paimol Site in Agago District are a few other revered tourist destinations in Uganda.
Sites of Cultural Interest on a Uganda safari
Uganda is a country with a rich and diverse cultural heritage, and there are many sites of cultural interest throughout the country. Some of the notable ones include:
Kasubi Tombs – Located in Kampala, the capital city of Uganda, the Kasubi Tombs are a UNESCO World Heritage site. The tombs are an important cultural and spiritual site for the Buganda people and are known for their intricate architecture and craftsmanship. Originally Kabaka Muteesa I's palace (1880-1884), the burials of Muteesa I, Mwanga II, Daudi Chwa, and Muteesa II may be seen in the main building, which was rebuilt following a fire in 2010.
Ssese Islands – Located in Lake Victoria, the Ssese Islands are a group of 84 tropical islands that are home to a number of traditional fishing villages. The islands are known for their lush vegetation, sandy beaches, and rich cultural heritage, and offer visitors the opportunity to experience traditional Ugandan village life.
Fort Portal – Located in western Uganda, Fort Portal is a town with a rich cultural history and a number of sites of cultural interest. These include the Toro-Semliki Wildlife Reserve, the Amabere ga Nyinamwiru caves, and the Rwenzori Mountain National Park, which is home to the Rwenzori Mountains, one of the highest mountain ranges in Africa.
Mpanga Forest Reserve – Located in western Uganda, the Mpanga Forest Reserve is a beautiful and biodiverse area that is home to a number of traditional communities. The reserve is known for its rich cultural heritage, and visitors can learn about traditional Ugandan life and customs through guided tours and cultural experiences.
Rwenzori Mountains – Located in western Uganda, the Rwenzori Mountains are a UNESCO World Heritage Site and one of the highest mountain ranges in Africa. The mountains are home to a number of traditional communities and are known for their rich cultural heritage and stunning natural beauty.
 The Bigo-by-Mugenyi site is believed to be an ancient settlement of the Bachwezi people, who were a powerful and influential civilization in pre-colonial Uganda. The site is located in the Sembabule-Mubende region and is known for its ancient ruins, including terraces, houses, and burial grounds. The site is thought to date back to the 13th or 14th century and is an important cultural and historical site in Uganda.
 The Nyero rock paintings are a series of ancient rock art sites located in eastern Uganda, in the districts of Kumi and Bukedea. The paintings are thought to date back to the early 20th century and are an important cultural and historical site in Uganda. The paintings depict a variety of subjects, including animals, human figures, and geometric shapes, and are believed to have been created by the Teso people, who have lived in the area for centuries. The Nyero rock paintings are a unique and fascinating window into the culture and history of the Teso people and are an important site of cultural interest in Uganda. The Nyero rock paintings are located in Eastern Uganda in Kumi District, 8 km (5.0 mi) west of Kumi town, about 250 km (155.3 mi) from the capital city Kampala. They are believed to have been painted by the earlier settlers in the area before the settlement of the Itesot people, and are composed of six panels of prehistoric art, including many geometric and abstract shapes. They are protected by Uganda's Historical Monuments Act of 1967 and Amendment Decree 1977, and have been added to the UNESCO World Heritage Tentative List. They can be accessed from a gravel road between Kumi and Ngora, and an entrance fee and guided tour is provided.
The Best times to go on a Uganda Safari
The best times to travel to Uganda are during the dry season, which runs from December to February and June to August. During this time, temperatures are mild and the days are sunny, making it ideal for outdoor activities such as game drives, white-water rafting and trekking.
The wet season, which runs from March to May and September to November can be unpredictable with heavy rains. However, these months are still suitable for some activities like chimpanzee tracking in Kibale National Park or visiting Murchison Falls National Park for boat trips and game drives. In addition, outside of the wet season months there are also numerous festivals that happen throughout the year that showcase Uganda's unique culture as a safari destination
Frequently asked questions on Safaris and Tours to Uganda
What to pack for Uganda safari?
When planning for a safari in Uganda, it is essential to pack the right clothing and items that will make the experience more enjoyable. It is recommended to bring lightweight, natural-fiber clothing as it will provide better breathability and help keep you cool in the hot African climate. Long-sleeved shirts, trousers or skirts (for women) should be worn while out on game-viewing drives as they protect against sunburn and offer some protection from mosquitos. Additionally, a wide-brimmed hat and sunglasses should also be packed. For cooler temperatures in the evening or early morning, bring along a jacket or fleece sweater. A pair of good binoculars are essential for game viewing, as are insect repellent and sunscreen. Don't forget to include any medications you may need as well as a first aid kit containing antiseptic cream, bandages and antihistamines – just in case! Finally, don't forget your camera with plenty of batteries to capture those perfect shots!
How do I book a safari in Uganda?
Booking a safari in Uganda is relatively easy and straightforward. The first step is to decide which type of safari you would like to take, as there are many different options available such as gorilla trekking, game viewing, cultural tours, bird watching and more. Once you have chosen your preferred activity, you can either contact a local tour operator or book online through one of the many travel websites that offer safari packages in Uganda. When booking online it is important to read all the terms and conditions carefully to ensure that your desired package includes all the activities that you wish to partake in. Additionally, it is crucial to check reviews from other customers who have used the same tour operator before making a booking to ensure that your experience will be enjoyable and safe.
What Makes Uganda Different from any other Traveller Destination?
Uganda is a unique and exciting travel destination with an abundance of natural beauty and cultural diversity. From the rolling hills of the countryside to the lush rainforests, there is something for everyone to explore. The people of Uganda are friendly and welcoming, sharing their rich heritage and traditions with those who visit. Whether you are looking for adventure or relaxation, Uganda has something to offer. Additionally, Uganda is unusual in that it has some of the most diverse wildlife in all of Africa including lions, leopards, gorillas, chimps and more. This makes Uganda an ideal destination for those who love nature and want to experience it up close and personal. With its vibrant culture, stunning scenery, friendly people and diverse wildlife, Uganda stands out as a truly one-of-a-kind traveler destination.
How safe is Uganda for tourists?
Uganda is generally a safe destination for tourists, with its friendly people and beautiful scenery. However, certain areas of the country can be dangerous due to high crime rates and civil unrest. It is important for tourists to do their research before traveling to Uganda, as well as familiarize themselves with local laws, customs, and safety protocols. In addition, visitors should travel with a trusted guide or tour operator when visiting remote areas of the country. Tourists should also avoid carrying large amounts of cash and valuable items, as well as keep an eye on their belongings in crowded areas. Overall, Uganda offers many wonderful experiences for travelers but it is important to remain vigilant at all times during your visit.