Volcanoes National Park
Volcanoes National Park is within the virungas Mountains in northwestern Rwanda. The park has five volcanoes Karisimbi, Bisoke, Visoke, Muhabura and Gahinga.
First gazetted in 1925 as the first National Park in Africa, it is a relatively small park at 160km2, however, its importance is in the protection of the Mountain Gorillas and was the base for primatology research by the late Diana Fossey
Diana Fossey was an American zoologist and primatologist who is best known for her extensive work with mountain gorillas. She founded the Karisoke Research Center in 1967, a remote research camp on the slopes of Mount Visoke in Rwanda.
Fossey's life was marked by both scientific achievement and personal tragedy. Her initial study of gorillas led to groundbreaking discoveries about their social behavior, including the finding that they have distinct personalities and individual traits. Fossey also witnessed gorilla deaths from poachers' traps, leading her to speak out against poaching and support international animal protection laws.
The Mountain Gorilla Tracking is one of the most popular activities in the Volcanoes National Park.
The tracking experience begins with a briefing on how to behave around mountain gorillas and what to do if they approach you. You will then be taken by a ranger through the forest on a trail that is usually used by the gorillas. You will be accompanied by armed rangers who will keep you safe and help track down any animals that come close to you.
Volcanoes National Park is also good for birdwatching with over 175 recorded bird species of which 13 species and 16 subspecies are Albertine rift endemic only found within the Albertine rift that includes the Rwenzori Mountains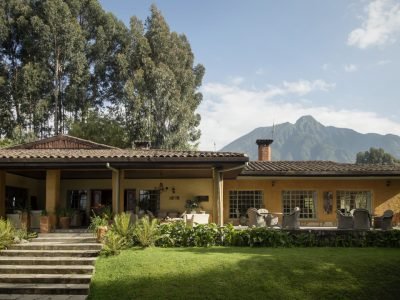 The Sabyinyo Silverback Lodge is a community-owned lodge in Rwanda set in 31 acres of community land with a backdrop of the Virunga Mountains
Unfortunately no tours were found.
