Lake Mburo National Park
Lying in the one part of Uganda covered in extensive acacia woodland, Mburo has markedly different fauna to other reserves.
Lake Mburo is the best place in the country to see the gigantic eland antelope, as well as zebra, topi, impala, and several acacia-associated birds.
The five lakes within the park attract hippos, crocodiles and a variety of waterbirds, while fringing swamps hide secretive papyrus specialists such as the sitatunga antelope and red, black and yellow papyrus gonalek.
It's one of the smaller parks of Uganda but my goodness, what a variety of wildlife there is ! Make sure to take a boatride on the lake. You'll see heaps of hippos and lots and lots of birds. 1 day is not nearly enough to even get a glimpse of the area. Make sure you stay at least 2 days. 

Zoutleeuw, Belgium on Trip Advisor
Where to stay
Lake Mburo National Park has 4 tents at Rwonyo park headquarters.
There are also 3 public campsites, all strategically located to facilitate and enhance scenic viewing and easy access to water. Lake Mburo dining shelter provides meals on order.
Meals:
Neither the Rest Camp nor hostel stock food, visitors are therefore advised to carry sufficient food and drinks for the duration of their stay in the park. The Rest Camp staff can arrange for the cooking. However other supplementary diet such as chicken and goat meat can be arranged from the nearby community for visitors who intend to stay longer.
Getting there:
Road Transport:
Lake Mburo National Park is found in Mbarara district, 3.5 hours drive from Kampala on Mbarara Kampala highway. Turn left at 13 km (Akageti) past Lyantonde, which then brings you to Sanga gate. Both junctions have clearly labeled signposts. It is 13 km from Sanga trading center of Sanga gate, 5 km from the main road to Nshara gate and about 20 minutes drive from Rwonyo Park Head Quarters.
Unfortunately no accommodations were found.
This 16 Days Uganda Birding Tour covers 5 major National Parks of Uganda and Includes Gorilla, chimpanzee trekking, Boat launches and Game Drives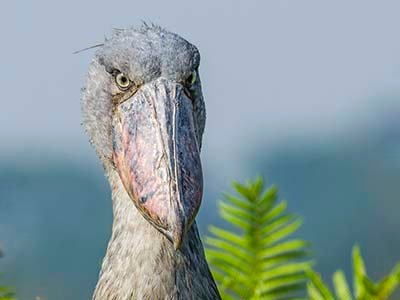 This Uganda tour is among the most exciting natural history and bird watching tour of Uganda . It covers most of Uganda's finest wildlife and  diverse bird watching sites
Major Attractions
Game Viewing
is the major tourist activity in this Park, it is famous for its richness in biodiversity. It has about 68 different species of mammals. The common ones are Zebra, Impala, Buffalo, Topi, and Eland as herbivores not to leave out the rare slightly of Roan antelope and leopard, Hyenas and jackals as predictors.
Boat Rides
The presence of Lake Mburo within the park is a blessing worth mentioning. The lake is rich with a diversity of animal and plant species which can only be viewed clearly if you take a boat trip. The crocodiles, hippopotamuses and birds like Pelicans, Black crake, Heron, cormorant, fish eagle, you may also sight the rare Shoebill Stork and all these will furnish your visit with pride. The duration of each boat cruise is negotiable.
Guide walks
The nature trail offers the visitor a chance to admire nature insitu. Visitors have the opportunity in walk in the circuit at his / her pace although in company of an armed guide. The trail is interpreted in form of a brochure in both English and Runyankole.
Salt Lick
A walk to the nearby salt is a summary of it all. Strategically located wooden hide (Observation point) offers a chance to see at least 4 different species of animals at any one time while they lick the salty soil. Most interesting to note is that this is done without the animal's conscience. Visitors may also walk to areas of their own choice.
Note: Walks inside the park must be in the company of an armed park official.
Rubanga Forest
You can also explore this forest by making arrangements with the Park Management to have a Ranger accompany you. The Rubanga Forest is very small but a true forest with a closed canopy in places. A common tree is Markhamia platycalyx (grey-brown truck with irregular flaky patches, divided leaves, yellow flowers striped and spotted with red; brunches of extremely long (up to 1.3 m podlike fruits). Palms, figs, sapium (a tall tree whose leaves turn red before falling) and the flame tree Erythrina abyssinica occur towards the edge of the swamp.
Birding
First-time visitors to Lake Mburo National Park are fascinated by the variety of large mammals and colourful birds. For many people, birds are the most interesting to watch. As common species become familiar, you will begin to notice smaller, less spectacular birds; the real experts seem to get most excited by 'Little Brown jobs' ('LBJs') which are the hardest to identify. Although many birds are wild spread, others are fussier in their choice of habitat. For example, most of the park's 310 recorded species are 'generalist' and can be seen almost anywhere. However, they are 5 species of bird, which are found only in the forest, and 60 specialist water birds. Others prefer short or tall grasslands or are found mainly in woodlands.
This Park has Open water birds, Lakeshore and papyrus swamp birds, Seasonal swamp birds, Woodland birds, Grassland birds and Forest birds.
Birds of the Open Water in this Park include; Pink-backed pelican, Darter, White pelican, Yellow-billed duck, Long-tailed cormorant, White-winged black tern and Greater cormorant
Lakeshore and papyrus swamp birds
They are over 26 species of lakeshore and papyrus swamp birds recorded in this Park. Some of them include; Fish eagle, Pied kingfisher, African finfoot, Great white egret, Night-heron.
