Lake Manyara National Park
Lake Manyara National Park is one of the parks found in Tanzania's Northern tourism circuit. It was established in 1960, making it Tanzania's second oldest Park. 70% of the park is Lake Manayra after which the park is named. The lake is quite shallow, not more than 2.5 meters at its deepest and even tends to get shallower during the dry season due to evaporation since there is no outgoing river. The evaporation makes the lake waters very alkaline, however, this alkalinity provides the right environment for algae which n turn attracts hundreds of thousands of flamingoes.
The park is a corridor for the great migration of millions of animals and therefore is a spectacle during that time of year when migration takes place. This large movement of Herbivores inevitably attracts carnivores including Hyena, serval, caracal, leopard, cheetah and the world-famous Manyara tree resting or climbing lions. The carnivore numbers however are not as numerous as in other locations.
| | |
| --- | --- |
| Languages spoken | English and Swahili |
| Currency used | U$ |
| Area (km2) | 648 |
| Country name | Tanzania |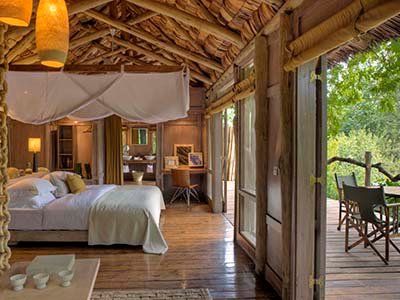 Lake Manyara National Park, Tanzania
andBeyond Lake Manyara Tree Lodge is set in a mahogany forest, the only permanent lodge in Tanzania's Lake Manyara National Park.
Mandhari Lodge, Njiro, Arusha TANZANIA
Mandhari Lodge is situated high on the Manyara Escarpment which forms part of the Great Rift Valley. 'Mandhari' means 'view, scenery, landscape' in Swahili
Unfortunately no tours were found.
Major Attractions
Game Drives
Bird Watching
