Arusha National Park
Arusha National Park is the second oldest park in Tanzania, established in 1960,  with an area of  542km2 it is one of the smallest parks.
Arusha National Park provides great opportunities to explore nature. Unlike other parks on the northern circuit of Tanzania, it does not offer great views of the big five, however, it offers excellent hiking and trekking of Mount Meru.
Mount Meru an active volcano that last erupted about 100 years ago is 4566 meters above sea level however from its base to the peak, it is an ascent of 3100 meters. The other outstanding landmark is the Ngurdoto caldera, both of these features were formed between 1 and 3 million years ago.  The volcanic activity of 6000 years ago resulted in the formation of the north-eastern Momela Lakes,
The 7 Momela lakes are unique in alkalinity and therefore with a different colour tone of greenish-blue hue. The flamingoes that frequent these lakes also add to the colour palate by providing the characteristic flamingo pink.
| | |
| --- | --- |
| Flora and Fauna | Despite the small size of the park, common animals include giraffe, Cape buffalo, zebra, warthog, the black-and-white colobus monkey, the blue monkey, flamingo, elephant, bushbuck and many other African animals. Leopard populations are present but rarely seen. Birdlife in the forest is prolific, with many forest species more easily seen here than elsewhere on the tourist route - Narina trogon and bar-tailed trogon are both possible highlights for visiting birders, whilst the range of starling species provide somewhat less gaudy interest. |
| Languages spoken | Swahili and English |
| Currency used | U$ |
| Area (km2) | 542 |
| Country name | Tanzania |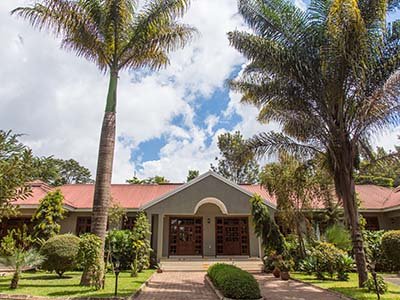 Arusha Planet Lodge is a made up of 28 Chalets decorated with African themes, and offering natural views of the Tanzanian Landscape
Unfortunately no tours were found.
Major Attractions
Trekking of Mount Meru is the major activity in this park. The whole trek takes 4  days and below is the proposed itinerary
Day 1: 10km trek from Momela to Miriakamba that takes about 5 hours (ascent 1,104 meters)
Day 2: 4 km trek to saddle hut that takes about 5 hours (ascent 1056 meters)
Day 3: Rest day
Day 4: 22 km  trek to the summit  and back to Momela that takes about 16-17 hours (ascent 996meters, descent 3,066 meters)
