Lake Nakuru National Park

Lake Nakuru National Park found in Kenya is a natural wonder, full of life and beauty. It is famous for the millions of flamingoes that nest on the shallow lake.
This park was formed in 1961 and covers 188 km2. Lake Nakuru National Park is located in Kenya Rift Valley and is surrounded by mountains on all sides. Wildlife attractions include flamingoes, black rhinos, lions, giraffes, and waterbuck: the two subspecies are found here, Cheetahs and Goliath herons.
The park protects the largest population of eastern Black Rhinos and over 70 southern White Rhinos.
In 1977 a program to relocate Nubian(formerly Rothschild) giraffes commenced, currently there are about 65 individuals.
Lake Nakuru National Park is the best place to visit if you love birds. Over 530 species of birds have been recorded including 18 threatened species. Notable birds for this park include flamingoes which number in millions at time, African fish eagle, Goliath heron, hamerkop, pied kingfisher and Verreaux's eagle. These birds are found around the lake as well as within its surroundings.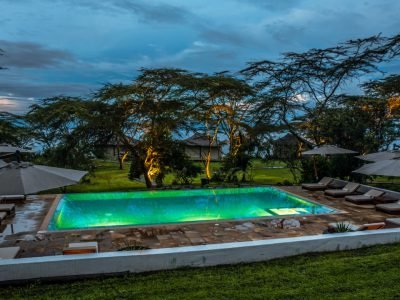 The Cliff Tented Camp in Lake Nakuru National Park is a 10-roomed luxury tented camp built on the edge of a cliff.
Unfortunately no tours were found.
